As a former teacher at New Britain High School and a current member of the local board of Eduction, Dr. Violet Jiménez Sims is well aware of the needs and priorities of the New Britain Public Schools. She hopes to take her knowledge to the city council, where she will gain more power to make a difference for the schools.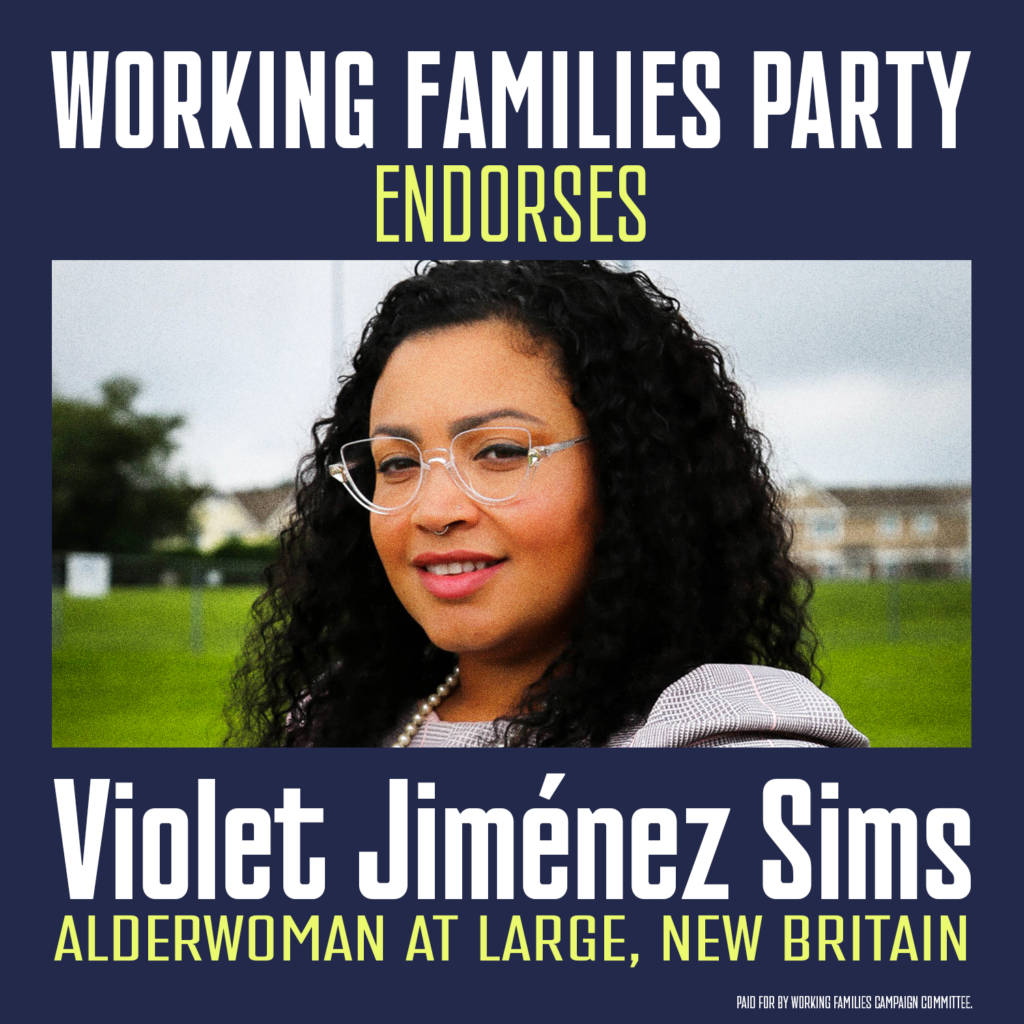 Dr. Sims prevailed in a primary election on September 14, winning the nomination to run for an at-large seat on the city council in the general election on November 2. She has received endorsements from the Democratic Town Committee and the Working Families Party. She is one of five endorsed candidates who will run in the general election.
"One of the challenges of being on the board of education is that you only have the power to spend the budget approved by the City Council and the mayor," Dr. Sims says. "Year after year, the current administration has provided a very small increase or no increase at all to the budget for the city schools."
Alma Exley Scholar
The Alma Exley Scholarship Program honored Dr. Sims in 2008. She has remained involved in the program since then and has given back by serving on the selection committee for the past several years.
"New Britain remains at the bottom of 169 towns in per-pupil spending," she said, "and the results of under-funding a high-needs district are predictable. We need a commitment to meeting the needs of all our students, which begins with equitable funding. I hope to work with other members of the council to find ways to support our school district better, both financially and through forming a more collaborative relationship with the superintendent and board of education."
Dr. Sims came to the United States from the Dominican Republic at the age of six with her mother and brother. She graduated from E.C. Goodwin Technical High School in New Britain, which enabled her to become a licensed hairdresser/cosmetologist. Although there is a perception that most students at technical high schools are not college bound, she enrolled at UConn, where she earned bachelor's, master's, and six-year degrees. Then she earned a doctorate from the University of Bridgeport. She is also certified to teach hairdressing at a technical high school.
Spanish Teacher at NBHS
Dr. Sims taught Spanish as well as English for speakers of other languages at New Britain High School from 2007 to 2014. While at NBHS, she recognized the need for more teachers of color. Consequently, she served as the first teacher in the Teacher Cadet program, which encouraged students to pursue careers in education. Since then, the program evolved into Educators Rising, which this fall will be inspiring future teachers in 15 Connecticut school districts.
"One of my proudest moments in teaching the Teacher Cadet course occurred when I had two students who were new arrivals from Puerto Rico," she recalled. "I was able to support those students in the class, allowing them to do all the honors-level coursework in Spanish. They were brilliant. That experience is one of the reasons I advocate for access to high-quality coursework for all students, because language proficiency is not correlated with intellect."
UConn Professor
After earning her doctorate, she joined the Neag School of Education at UConn, where her teaching focuses on multiculturalism. She also works closely with 13 public-school districts in her role as associate director of teacher education for school-university partnerships.
A member of the board of education since 2017, Dr. Sims has chaired the curriculum committee, which has overseen an overhaul of the curriculum at all grade levels. "I have worked to ensure that the new curriculum is written through an equity and inclusion lens," she said. "I have also advocated for school policies that are inclusive of English-language learners, LGBTQ students, and students of color as well as their families."
Public Resources Should Benefit All
Obviously, education is her passion, but she also hopes to find ways for all city residents to benefit from public resources while lowering the tax burden on city residents. She hopes to accomplish this through the reallocation and prioritizing of resources as well as applying for state and federal grants that benefit the entire community.
The endorsed slate of five council candidates has identified several priorities:
Fund our schools and invest in youth activities and services.
Lower car taxes because all taxpayers — not just homeowners and landlords — need more money in their pockets.
Advocate and work so every home and neighborhood is safe, healthy, and free from blight.
Build community trust and improve public safety by creating a police civilian review board.
Focus on transparency and accountability at every level of local government.
"The name of our slate is Advocates for All," she said. "I think that really encompasses the theme of my candidacy. Our appointed city boards and commissions do not resemble our population. There are certainly segments of our population that are more empowered than others. We hope to empower everyone — in all neighborhoods."
Community Leader
Dr. Sims has also been active in the community beyond education. The New Britain branch of the NAACP gave her the Community Business and Economic Development Award in 2017. This recognized a project undertaken with her husband, D'Andre Sims. They established the Diaspora Multicultural Society, Inc., a social club whose membership represents many ethnicities from many parts of the world. They have made the space available for meetings and workshops that have had an impact on the community through a variety of programs.
Dr. Sims was the founding president in 2002 of Altrusa International of Greater Hartford, a service organization empowering women and improving literacy. She serves as first vice governor of District One, which includes clubs from New England, Bermuda, and Quebec.
D'Andre Sims is a math instructional coach at Pulaski Middle School in New Britain. Earlier in his career, he taught at New Britain High School. The couple's daughters, Andrea and Deana, attend New Britain public schools.
Get out and vote on September 14 and November 2. Meanwhile, use the following link to make a contribution to the campaign to elect Dr. Violet Jiménez Sims: https://secure.anedot.com/advocatesforall/donate
: