Desi Nesmith, one of our earliest scholarship recipients, is constantly affirming the wisdom of our selection committee in identifying talent and character.
During his 13-year career as a teacher and principal, he has often been recognized for excellence in teaching and leadership. Last fall, he received the most prestigious of his numerous recognitions when he was given the $25,000 Milken Family Foundation Educator Award.
This week he announced at the Bloomfield Board of Education meeting that he is donating 10 percent of his prize to Bloomfield High School for a college scholarship for students who are preparing to become educators.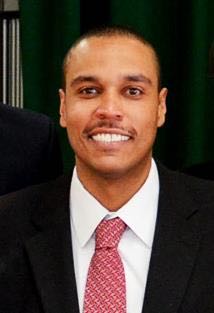 "When that (Milken Award) happened and all my students got to see it, I wanted to pay it forward," said Mr. Nesmith, who was surprised by the award at an assembly he thought had been scheduled to celebrate students's scores on state reading and writing tests.
Mr. Nesmith has served as principal of Metacomet School in his hometown of Bloomfield since September 2011. Since then, he and his colleagues have been recognized for the improvement their students have achieved in state standardized tests.
Mr. Nesmith attended Metacomet School in first and second grades, and he has chosen to name the scholarship in memory of his first grade teacher, Anne Stone Dowdy, who died in 2005.
"She laid down the foundation that game me a love of learning," he said. "I still remember the things she taught us. She was stern but she loved you. You can't fake that. She was one of those people you never forget."
Bloomfield Schools Superintendent James Thompson was pleased and impressed by Mr. Nesmith's establishment of the scholarship. "It's a noble gesture on his part," he said. "It speaks volumes about Desi's character."
Yes, it does. Since 2000, when our selection committee chose Desi to receive the Alma Exley Scholarship, we have been privileged to see him grow personally and professionally. He has gone on to have a positive impact as an outstanding teacher and principal.
I am honored that he has agreed to serve as our featured speaker when we honor our newest recipient, Justis Lopez, at our annual reception on May 4. I'm sure he will offer an inspiring message to the future teachers in attendance.
– Woody Exley