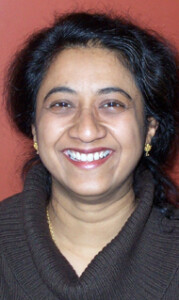 Sibani Sengupta, Ph.D., a 2009 recipient of an Alma Exley Memorial Scholarship, has been chosen to receive the 2010 Outstanding Biology Teacher Award (OBTA) for Connecticut.
This prestigious award is presented to only one person in Connecticut each year by the National Association of Biology Teachers (NABT).
Dr. Sengupta received her Connecticut teaching certificate through the Alternate Route to Certification, a state program that enables professionals from other fields to teach in public schools.
She holds degrees from the University of Calcutta and a Ph.D. from the University of Connecticut, and she did research as a post-doctorate fellow at the University of Connecticut Health Center.
Dr. Sengupta is chair of the science department at Sacred Heart Academy, Hamden, Conn., where she has taught advanced-placement biology, genetics, and honors and college-prep biology and microbiology. She also runs the Human Gene Discovery Laboratory at the school.
Recipients of the Outstanding Biology Teacher Award will be honored at the NABT National Professional Development Conference in Minneapolis, Minn., on November 5.
Each OBTA recipient will receive science equipment donated by Pearson Prentice Hall Publishing Company, the sponsor of the OBTA program, and a microscope donated by Leica Microsystems, Inc.
The Connecticut Association of Biology Teachers (CTABT) will honor Dr. Sengupta at its Annual OBTA Lecture/Reception in October.
Posted June 14, 2011