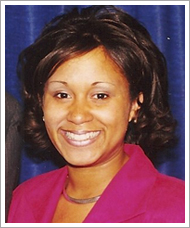 Ollie-Rubiah Williams, who was honored as an Alma Exley Scholar in 2001, has been named Teacher of the Year for her school for the 2008-2009 academic year.
She is a teacher at the Farmington Valley Diagnostic Center, Avon, Conn., which is operated by the Capitol Region Education Council (CREC).
Ms. Williams, who grew up in Windsor, Conn., holds a bachelor's degree from Temple University, Philadelphia, Pa., and a master's degree from Saint Joseph College, West Hartford, Conn.
She is the second Alma Exley Scholar to be named a Teacher of the Year. Desi Nesmith, a scholarship recipient in 2000, previously was named Teacher of the Year for Mayberry Elementary School in East Hartford, Conn. He current serves as principal of SAND Elementary School in Hartford.