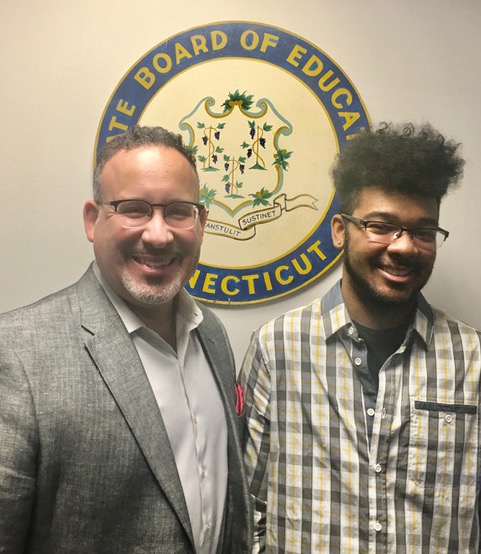 Marquis Harris of Waterbury, a junior at the University of Saint Joseph, has been welcomed into the Alma Exley scholarship family by Dr. Miguel Cardona, the Connecticut state commissioner of education.
This meeting was especially fortuitous since Dr. Cardona was one of the first Alma Exley Scholars, in 1998.
Mr. Harris, a secondary education major with a concentration in English literature, was chosen as our 31st Alma Exley Scholar by a diverse selection committee of respected educators. We will honor him at a reception in the spring.
He is a graduate of Wilby High School and Naugatuck Community College in Waterbury. He plans to return to teach at one of the high schools in his hometown after receiving his degree from USJ in 2121.
Setting an Example
"I've never had a black, male teacher," he told Dr. Cardona in a meeting in the commissioner's office in Hartford. "I want to be the kind of role model that I've never had. It's been said that 'you cannot be what you cannot see,' and I want to set the kind of example that students can look up to and emulate."
Dr. Cardona recalled being honored with the scholarship in 1998 when he was an undergraduate at Central Connecticut State University. He said that the award gave him confidence as he was looking ahead to beginning his teaching career. He went on to earn a master's degree and a doctorate from UConn.
While at the State Department of Education, Mr. Harris also had the opportunity to meet Desi Nesmith, whom we honored with an Alma Exley memorial scholarship in 2000, and who recently had been appointed deputy commissioner.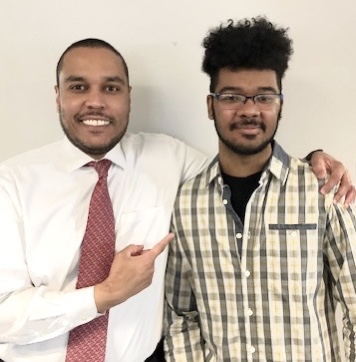 An Inspiring Experience
Mr. Harris said it was inspiring to meet two Alma Exley Scholars who had risen to important leadership positions. He loves poetry, especially the writing of Emily Dickinson, and he hopes to pass along his appreciation for literature to his students in the future.
Dr. Cardona began his career as an elementary teacher in his hometown of Meriden, and soon became the state's youngest school principal. He was honored at the White House as a National Distinguished Principal. He served as assistant superintendent in Meriden before being appointed state education commissioner in 2019.
Mr. Nesmith began his career as a teacher at East Hartford's Mayberry Elementary School, where he was named Teacher of the Year. He served as an elementary principal in Hartford, being named the state's outstanding first-year principal. He was a principal in his hometown of Bloomfield before joining the State Department of Education, where he served as chief school turnaround officer and interim commissioner until being appointed deputy commissioner late in 2019.
Congratulations to Marquis Harris on this honor, as well as to Dr. Miguel Cardona and Desi Nesmith on their recent appointments to leadership positions at the highest level of public education in the State of Connecticut.
###