Connecticut is seeing results from the Teacher Residency Program, which the state launched in 2019 to increase educator diversity.
Gov. Ned Lamont recently met with state and local officials at an elementary school in New Britain to celebrate the program, one of numerous initiatives in Connecticut to bring more teachers of color into the state's classrooms.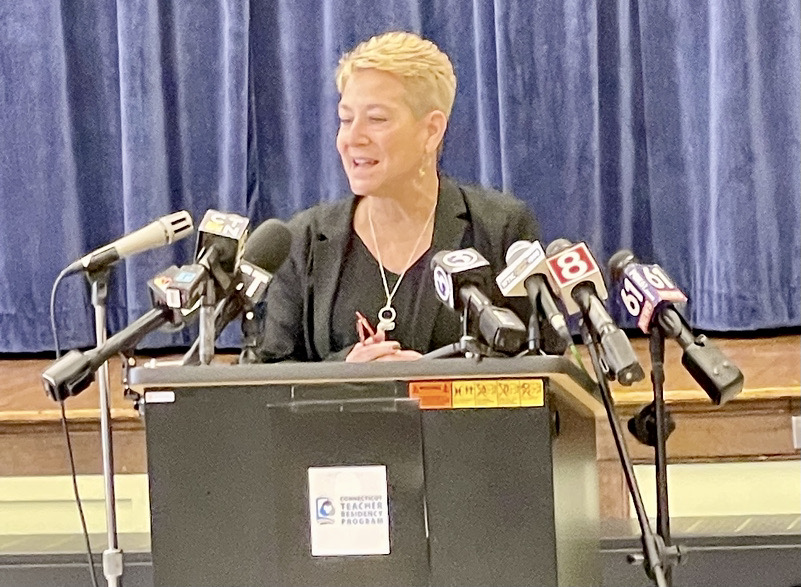 "I think our schools are great. . . because we celebrate our teachers," he said. "We love our teachers. We let our teachers teach, and we show the respect we need to generate and attract the next generation of teachers. "
Pathway to Teacher Certification
The Teacher Residency Program provides a pathway to teacher certification to individuals with bachelor's degrees, many of whom are working in schools in non-certified roles, such as para-educators.
These individuals take college courses for 18 months (summer and evenings) and work for one year side-by-side with a mentor teacher while earning pay and benefits. They become eligible for a full-time, elementary teaching position in a partner school district upon completing the program and certification requirements."
45 Residents for Next Year
The class of 2020 had 11 residents, including Blacks, Latinos, and mixed-race individuals. The Class of 2021 had 14 Black and Latino residents. The class of 2022 will have 45 residents, including Blacks, Latinos, Asian Americans, Native Americans, whites, and mixed-race individuals.
"The data says all children in this country learn better when they're taught by a diverse teaching population," said State Senator Douglas McCrory. "So, if we want to be one of the best states in this country or educating our children, we need to follow the data and make sure we diversify our classrooms."
The Teacher Residency program is planning to place 45 resident, pre-service teachers in four to six schools in 2022-2023.
Last year the State Department of Education met its five-year goal for persons of color to make up 10 percent of public-school educators. But state leadership wants to make more progress as students of color account for nearly half of the state's public-school students.