Everyone who knows Justis Lopez that he is a rising star. But now he can officially claim that title. He has received the annual Rising Star Award from the New England Educational Opportunity Association.
Mr. Lopez, whom we honored in 2015, received the award at the organization's annual conference recently in Stowe, Vermont.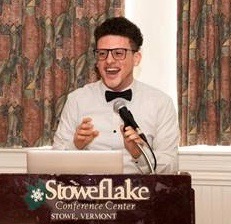 NEOA is an organization of educators who work to ensure equal educational opportunities in higher education for low-income individuals, first-generation college students, and students with disabilities.
The Rising Star Award recognizes emerging professionals who are former participants in NEOA educational opportunity programs. Mr. Lopez's involvement with NEOA began at the University of Connecticut, where he was active with the Student Support Services program.
The SSS program opened a number of opportunities for him during his undergraduate years. He won an internship in Washington, D.C., with the NEOA-affiliated Council for Opportunity in Education, which enabled him to meet President Barack Obama. He served as a peer leader to a group of SSS undergraduate students studying in London, England. And he served as a residential coordinator in the SSS Pre-Collegiate Summer Program.
Reflecting on the impact that SSS has had on his life and career, Mr. Lopez has this to say:
"Never has any program I have been a part of shifted the trajectory of my life as much as SSS has. I have met some of my best friends and learned some of my largest life lessons that the classroom never could have taught me in that program, and I am forever grateful."
Now finishing his third year as a high-school social studies teacher, Mr. Lopez has been honored as "an emerging leader who is striving for the highest levels of personal and professional achievement," in the words of the NEOA. Rising Star honorees are recognized for exceling in their chosen fields, devoting time and energy to their communities in a meaningful way, and serving as role models for other low-income, first-generation, college-bound students and students with disabilities.
Mr. Lopez began his teaching career at Manchester High School. Since September 2017, he has been teaching at Urban Assembly School of Applied Math and Science, a public school in The Bronx, N.Y.
Congratulations to Justis Lopez on this much-deserved recognition by an organization of educators from across New England. Our selection committee knew he was destined for greatness, and I'm delighted that he is gaining recognition in the wider education community.
— Woody Exley