Sacha Kelly, whom we honored in 2009, has been recognized by the Math Teachers' Circle 4 Social Justice (MTC4SJ), an organization that puts the spotlight on math teachers who promote social justice.

What does mathematics have to do with social justice? Ms. Kelly explains it this way:
"There are social justice issues that appear to have nothing to do with math. But math is inherently a part of how some of these injustices are designed and perpetuated. By addressing these issues and learning the mathematics behind them we can create the change that needs to happen."
Applying Math Concepts to Societal Issues
Ms. Kelly is a math teacher at the Academy of Science and Innovation, a magnet high school in New Britain. CT. In teaching algebra and geometry, she shows students how mathematical concepts can be used to address various societal issues.
Policing and race? Understanding can be achieved by describing categorial data.
Inequities in education? Apply a concept called least squares regressional line.
Does gun control work? To find out, think about regression inference.
Treating stroke? The hypothesis test for two means can provide insight.
Is climate change real? Try using a concept called inference for matched pairs.
Who's better: LeBron James or Michael Jordan? Percentiles and Z-scores could provide the answer.
How much money do social-media influencers make? Interval for a mean will help clear this up.
In addition to teaching algebra and geometry, Ms. Kelly has helped create an SAT prep and enrichment class as well as an intervention program for students struggling with math.
Celebrating People of Color in Science and Math
Her classroom walls are dedicated to celebrating people of color within STEM to allow students of color to see themselves represented in the fields of science, technology, engineering, and math.
She also mentors a group of future educators enrolled in the CT Teacher Residency Program, which aims to bring more people of color into teaching. She also tutors future teachers to help them to pass the Math Praxis exam, which aspiring teachers must pass to earn certification.
Ms. Kelly was part of MTC4SJ's inaugural Summer Stars cohort in 2021 and was one of the authors of the Mural Mathematics lesson.
"I loved being part of the group," she said. "It allowed me to dedicate time to building the social justice curriculum that I and other like-minded educators can use as a resource in our classrooms.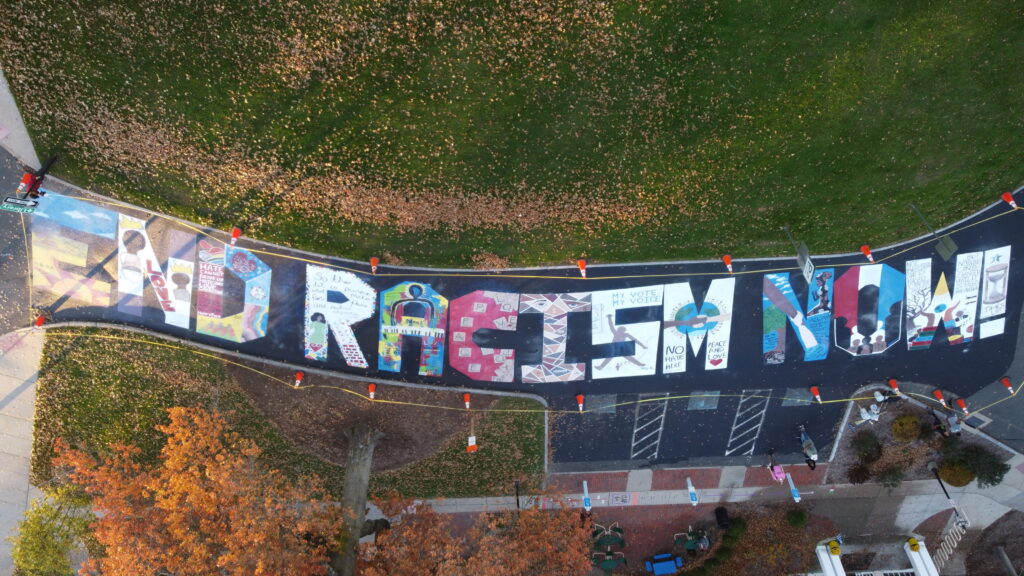 Street Art for Social Justice
The teacher has made a name for herself as an artist who incorporates math into her art. She has worked on multiple Black Lives Matter murals to support the BLM Movement in Hartford, Bloomfield, and Windsor. One of her art pieces is displayed in the New Britain City Hall.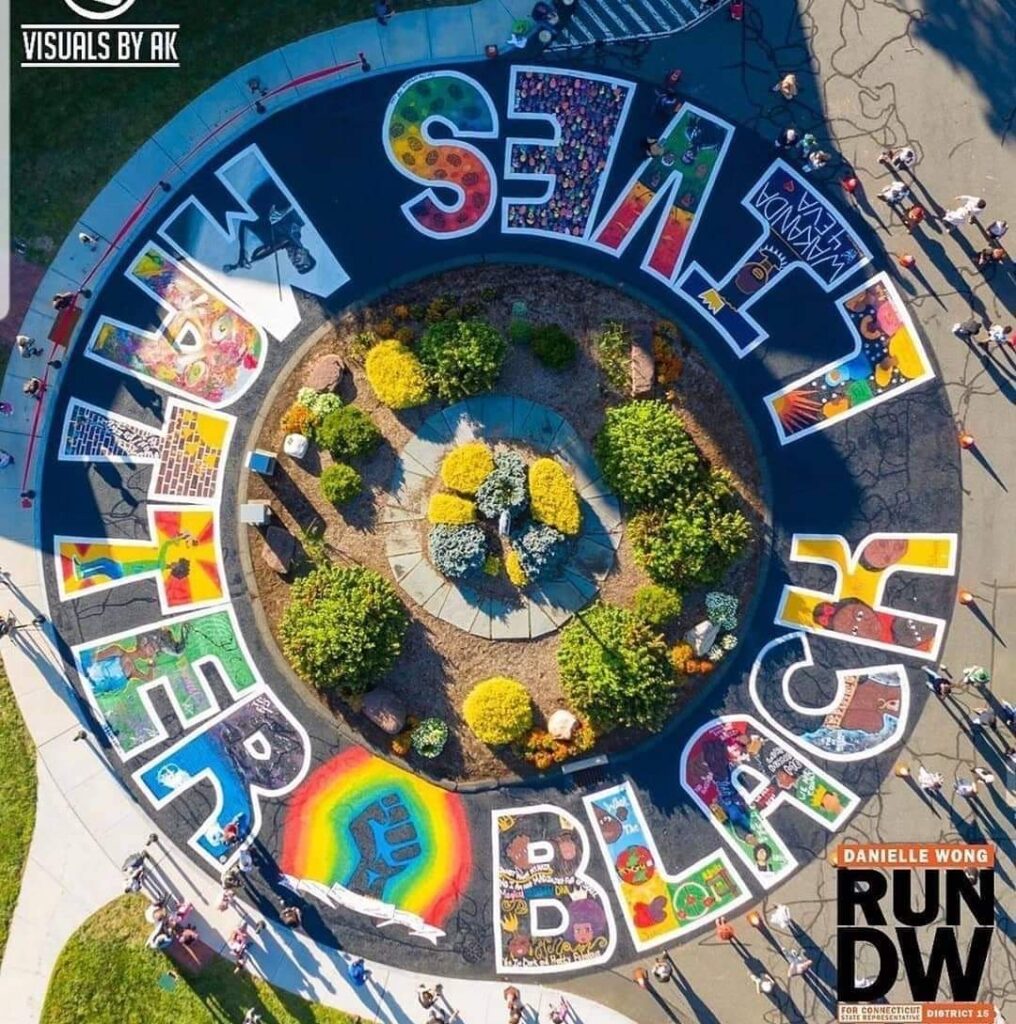 Entering the World of Social Justice Math
Ms. Kelly has long brought concepts of social justice into her teaching of mathematics. This reflects her background as a student of color who saw first-hand the under-representation of Black teachers in the public school system, particularly in the STEM field.
"I had phenomenal teachers of color who inspired me to give back by becoming a teacher," she said. "I have been able to view the public education system from both sides–as a student and an educator. My experience has taught me the importance of drawing from my racial and cultural background in the classroom. Incorporating social justice issues into my teaching came natural to me because the societal issues that my students care about are on my mind as well.
Supporting Academic Achievement
"As I have Incorporated social justice into my classroom, I have seen students reflect on their mathematics abilities and realize they are stronger than they initially thought," she said. "This realization also extends into their academic achievement overall. I have seen my students become more likely to continue education after high school and hopefully enter the STEM field after being exposed to social justice in math class.
"For students, this exposure is important because the content allows them to see themselves as change agents in society," she added. "I have seen students realize that by learning the mathematics behind these civic issues, they can create the change that needs to happen. They realize that they can utilize math in a way that can directly affect their lives."