Margaret Seclen, a student at the University of Connecticut, was honored as the 2013 Alma Exley Scholar at a reception on April 8 at the Elmwood Community Center, West Hartford.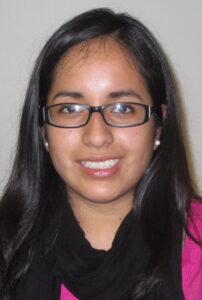 Ms. Seclen, from Stratford, Conn., is completing her senior year by student teaching at Batchelder Elementary School, Hartford. She is scheduled to receive a B.S. degree in elementary education and a B.A. degree in history in the Honors Program in May. She plans to receive a master's degree in education from UConn in May 2014.
Four previous recipients were on hand to honor Ms. Seclen, Dr. Miguel Cardona, principal of Hanover School in Meriden; Desi Nesmith, principal of Metacomet School in Bloomfield; Violet Jiménez Sims, Spanish teacher at New Britain High School; and Dr. Santosha Oliver, assistant principal at Robert J. O'Brien STEM Academy in East Hartford.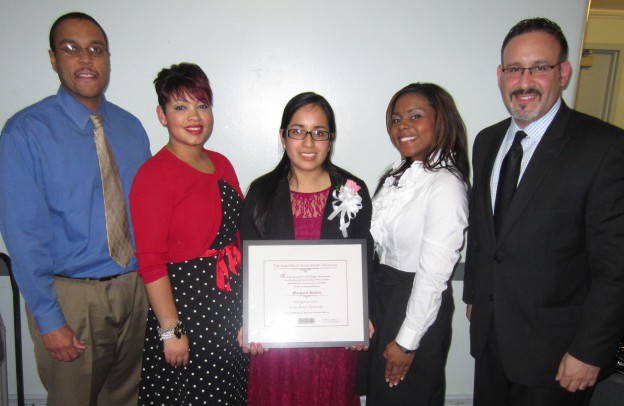 Margaret Seclen, center, with previous recipients who were on hand tocongratulate her, from left, Desi Nesmith, Violet Jiménez Sims, Dr. Santosha Oliver, Dr. Miguel Cardona
In expressing her thanks for the scholarship, Ms. Seclen said that she has always wanted to be a teacher. She recalled, as a five-year-old, trying to teach her younger brother how to read and write.
Ms. Seclen came to the United States from Peru at age 10. She attributed her early academic success to her fifth-grade teacher, Ms. Torres, a loving and nurturing woman who made her feel welcomed.
"Being a part of Ms. Torres' classroom has influenced me to this day because I want my students to feel just as important and valued as Ms. Torres made me feel," she said. "I want every one of my students to know that someone cares for them and that my classroom is their home. I want them to know that it's okay to take risks and it's okay to make mistakes. I want them to know that I won't give up on them and that they will be successful."
Ms. Seclen said research about the achievement gap suggests that minority students might not be meeting higher levels of academic performance because they often find schools to be alien and hostile settings.
This led her to focus her senior thesis on culturally responsive teaching practices. Teachers are using these methods to improve academic performance by minority students by allowing them to learn in meaningful ways, such as connecting classroom learning to their interests, prior experiences, and cultural backgrounds. These practices can range from building a sense of trust in students to critically examining the curriculum to determine whether it reinforces negative cultural stereotypes.
"I am lucky to be creating those trusting relationships with my students now," she said. "I've seen that only after establishing these bonds can students be successful academically.
"Only because we care for and respect each other is it possible that a student can feel comfortable enough to share with me that her dad died after being stabbed when she was only three.
"Only because we care for and respect each other is it possible that one of the most disruptive students works hard to stay on task so he can have lunch with me.
"Only because we care for and respect each other is it possible that a student who always puts his head down and refuses to do any work, actually announces to the class that "Math is fun!" as he rapidly works to complete his fact families.
"Every day comes with its challenges, but with love, care, and determination, we're able to overcome those obstacles in our way for the sake of learning and growing.
"All my experiences so far have shown me how vital education is in order to succeed in life," she said. "Despite current trends, I still believe education to be the 'great equalizer' because it can empower all students to fulfill their dreams. Education helps children reach their full potential and has the ability to shape students into meaningful contributors to society.
"I consider myself extremely fortunate to have a direct role in this process of discovery and growth that children experience in their elementary school years, and I simply cannot wait for the day where I have my very own classroom."
The guest speaker, Dr. Oliver, spoke about the mission of the STEM Academy in East Hartford, which is to encourage students to develop an interest in the fields of science, technology, engineering and mathematics. Excerpts from her remarks are posted in the "In Their Own Words" feature.