When we honored Jessica Raugitinane in 2012, she said it was her dream to teach abroad. After two years of teaching in Washington, D.C., she realized her dream.
During the 2016-2017 school year, she taught English as a second language in Quito, Ecuador, through a volunteer program called WorldTeach.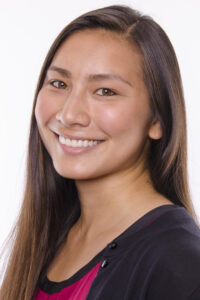 "I have always wanted to teach abroad," she told me, "especially in Latin America, to practice my Spanish and immerse myself in the culture. I wanted something longer than a study abroad experience to truly give me the time to build myself a community in my new home."
From Young Children to Adults
After studying elementary education at UConn and twoyears of teaching fifth grade, it was quite a change of pace to teach adults in Ecuador.
"I absolutely loved teaching adults," she said. "My students included high school, university, and adult students. Since they had to pay to attend the English classes, there was consistently a high level of enthusiasm and dedication since most students were financially and personally invested in their learning. It was refreshing to feel that every minute of teaching was sincerely appreciated by my students.
"The appreciation from my students was overwhelming. At the end of each teaching cycle, students expressed their gratitude with kind words, gifts, and a desire to spend quality time with their teacher. (We went out dancing to celebrate the end of the cycle!)
"That was another great aspect of teaching adults. I felt that I could get to know my students on a more personal level as a peer since we were in the same age range. Student engagement increased once they got to know me better as a person, getting to know my interests and life experiences."
Immersed in Latino Culture
Spanish was one of her three majors at UConn, along with elementary education and English. And she minored in Latino Studies.
"Much of my interest in the Latino culture comes from my upbringing," she said. "My mother is from El Salvador, and I visited El Salvador every two years throughout my youth. My desire to practice my Spanish also influenced my decision to study abroad in Seville, Spain, while at UConn."
Ms. Raugitinane said that her studies at UConn prepared her to teach in a different culture.
"UConn opened my eyes to educational differences in the United States," she said. "Teaching in Mansfield and student-teaching in Hartford were two very different experiences, due to socio-economic and cultural factors. This sparked my interest in broadening my perspective on education.
"With my master's experience in London, I also saw how the U.S. and British education systems differ. Teaching in Ecuador was another opportunity to experience another country's education system.
Teachers Highly Valued
"Although teaching English to adults is outside of public K-12 education, it was interesting to see how teachers, especially English teachers, were valued in Ecuador. My name was never Ms. Raugitinane, but 'teacher' — a constant recognition of my profession that my students valued."
Since returning from Ecuador last year, Ms. Raugitinane has been teaching fourth grade in a dual-language elementary school in her hometown of Alexandria, Virginia. And she has been applying lessons learned in Ecuador to her current classroom.
"The biggest take-away from teaching college students is to allow my students to get to know me as a person, no matter the age," she said. "With elementary students, it's easy to just be that adult who teaches, disciplines, and tries to maintain an adult-to-child relationship. However, I noticed that my fourth grade students responded well once they knew that my family was from El Salvador just like them or they knew that I enjoyed dancing and singing to the same songs they do."
Connecting Through Language
Ms. Raugitinane's knowledge of Spanish helped her in teaching English to Spanish-speakers.
"It was helpful when teaching something obscure from the English grammar and I could easily relate it to the grammar in Spanish," she said. "This also increased student engagement. Since students viewed me as someone knowledgeable in both languages, they began to trust me even more."
Dual-Language School
Now Ms. Raugitinane is teaching in a dual-language, K-5 school. Math and Science are taught in Spanish, and English and Social Studies are taught in English. But all state standardized testing is in English.
This past year, 75 percent of her students identified as Hispanic, while the other 25 percent identified as white, non-Hispanic. Most of the student population is Spanish-speaking.
Helping Immigrant Families
"Teaching in Ecuador helped me realize that I truly need to be in a school with a high Latino student population," she said. "My interest in teaching began with my desire to help Latino immigrant families, and now I am finally in a school that has just that. It is still difficult being a new teacher with only four years of experience, but it's where I need to be to continue growing in a place that I am passionate about. However, teaching in Ecuador has also opened my interest to teaching adults. We will see where my career path leads to next!"
-Woody Exley