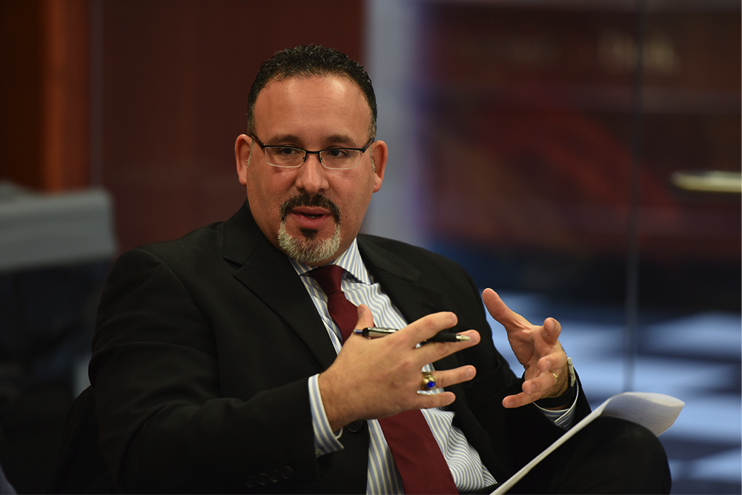 (Photo Credit: Ryan Glista/Neag School)
UConn's Neag School of Education recently featured Miguel Cardona in its recurring "10 Questions" series, and the Alma Exley Scholarship Program is happy to share the interview here.
We honored Cardona as an Alma Exley Scholar in 1998 when he was a student at Central Connecticut State University. Since then, he has received four degrees from the University of Connecticut, M.A. in 2001, 6th Year in 2004, Ed.D. in 2011 and Educational Leadership Program in 2012.
Since 2015 he has served as assistant superintendent for teaching and learning for Meriden (Conn.) Public Schools. Earlier in his career, he was a principal in Meriden for 10 years. In 2012, the Connecticut Association of Schools recognized him as Connecticut's National Distinguished Principal. In 2013, the Neag School's Alumni Board named him Principal of the Year. Today, he also serves as adjunct faculty in the Neag School's UConn Administrator Preparation Program (UCAPP). — Woody Exley
By Shawn Kornegay
What drew you to the Neag School of Education?

As a fourth-grade teacher, I heard about a program that was being offered at UConn for a master's degree in bilingual/bicultural education. After looking into it, I was hooked. Soon after, I was encouraged to join a leader preparation program. After researching different programs, I felt UCAPP was the best in the state, and I was honored to be accepted.
Similarly, the Ed.D. and Executive Leadership programs were the ones that I felt best prepared me for a successful future in education and leadership. I feel blessed to have had the great learning opportunities at UConn over the last 20 years. The Neag School is a tremendous resource, not only as a school of education, but as partners as we work to improve education in Connecticut.
"Great educators build relationships with students and set a high bar for their growth. Great educators believe in the potential of their students, even if the students don't yet. Great educators pay attention to detail and … value the importance of preparation."
What led you to choose to pursue the field of education?

Kids. There are few things as gratifying as knowing that your hard work will improve the lives of children. Coming from a family who modeled service to others, I knew I wanted a profession that would give me the opportunity to serve others and help strengthen my community. Teaching did that. Initially, I wanted to become an art teacher. I love the arts and the important role it plays in the development of a person, but I gravitated toward elementary education once in the program. Being an elementary teacher is akin to being an artist, so I got the best of both worlds.
What do you believe makes a great educator?

Great educators are ones that do not look at their work as a job, [but] as an extension of their God-given gifts. The passion and commitment from great educators comes from within … Great educators build relationships with students and set a high bar for their growth. Great educators believe in the potential of their students, even if the students don't yet. Great educators pay attention to detail and, like any other profession, value the importance of preparation. Whether that is lesson design, or getting to know their students, great teachers invest in their work — and they reap the benefits of their students' success. … The role of teacher is the most important of all. Teachers shape lives.
How did the Neag School prepare you?

The Neag School prepared me in many ways. I had the fortune of learning from some of the best professors, latest research, and driven cohorts. Neag instructors balanced research and practice well, whether it was through program design that required field experience, or through partnerships with some of the leading thinkers and practitioners in the state. The coursework was enhanced with seminars, invitations to functions in the state, and guests that provided unique perspectives from which I grew.
What do you like about working with the Meriden School District?

I love being a part of the Meriden team. As a lifelong resident, and product of its schools, I love being a part of the important work for this city. I work with amazing people, and it is really important to me to remember that the decisions I make in my role as assistant superintendent affect all children, including my own.
What have you enjoyed about serving as an administrator?
It is about relationships. Working with adult learners and a greater number of families was a highlight of serving as building principal for 10 years. I enjoyed working with driven teachers whose input always made our building better. I learned so much from my colleagues and feel that my success is a result of the collective experiences I had as a teacher and school leader.
What are some recent initiatives of which you are most proud?

Serving as co-chairperson of the Connecticut Legislative Achievement Gap Task Force has been a great source of pride. It has resulted in legislation and practice that works to support student success in ways that make it truly the great equalizer it needs to be in this country. Supporting and advocating for quality programming for our youngest is some of the most rewarding work there is. At the local level, establishing systems that empower teacher collaboration and systematically raising the bar for tier 1 instruction have given me great pride. Another local initiative that brings me great pride is being able to bring community partners into the educational process. Whether that is a local agency aiming to improve the experiences of children after school or a local college that wants to collaborate to create a dual enrollment program for our high schoolers — connecting the K-12 experience to the community is a great source of pride and satisfaction.
What are your thoughts on the Neag School's participation in the new University Preparation Program Initiative (UPPI) and how it will help school administrators?
I am thrilled we have an opportunity to partner with UConn in Meriden and know that the UPPI program will only enhance our work with leadership development. As a tier 1 research university, the resources we will benefit from will ultimately enhance the experiences of our learners in Meriden. Given the history I had with the educational leadership department at UConn, I look forward to a great partnership with the Meriden Public Schools.
Where do you see yourself in the future?
I hope to continue in this role in Meriden for the foreseeable future. I enjoy what I do and love that it is in the same community in which I live. I feel my role is an extension of my commitment to this community, my family, and to the children in Meriden. I hope to also continue teaching at the university level. The courses I teach at UConn for prospective leaders inspires me. I love the passion and energy of the students whose role will be to shape the educational landscape for the next 30 to 40 years. In my plans, I also expect to enjoy my 10- and 12-year-old as much as possible, and never miss a school concert.
What were some of your favorite moments at UConn?

As the son of two parents who sacrificed so much so their three children could have more than they ever had, the favorite moment for me was being hooded and earning my doctorate. I remember filling up a school bus with family and driving up to Storrs, Conn., for my graduation. When I crossed that stage, it represented the hard work, sacrifice, and guidance that was given to me by my parents and those that supported me. It was a highlight for me as a father also. It sent the message to my kids that the sky is the limit.
Posted May 17, 2017