Chastity Berrios Hernandez, a senior at Fairfield University, was honored as the Alma Exley Scholar for 2017 at a reception at the Mark Twain House on May 3. Attendees included Ms. Berrios's family, supporters of the Alma Exley Scholarship Program, educators from Fairfield University, and several previous recipients.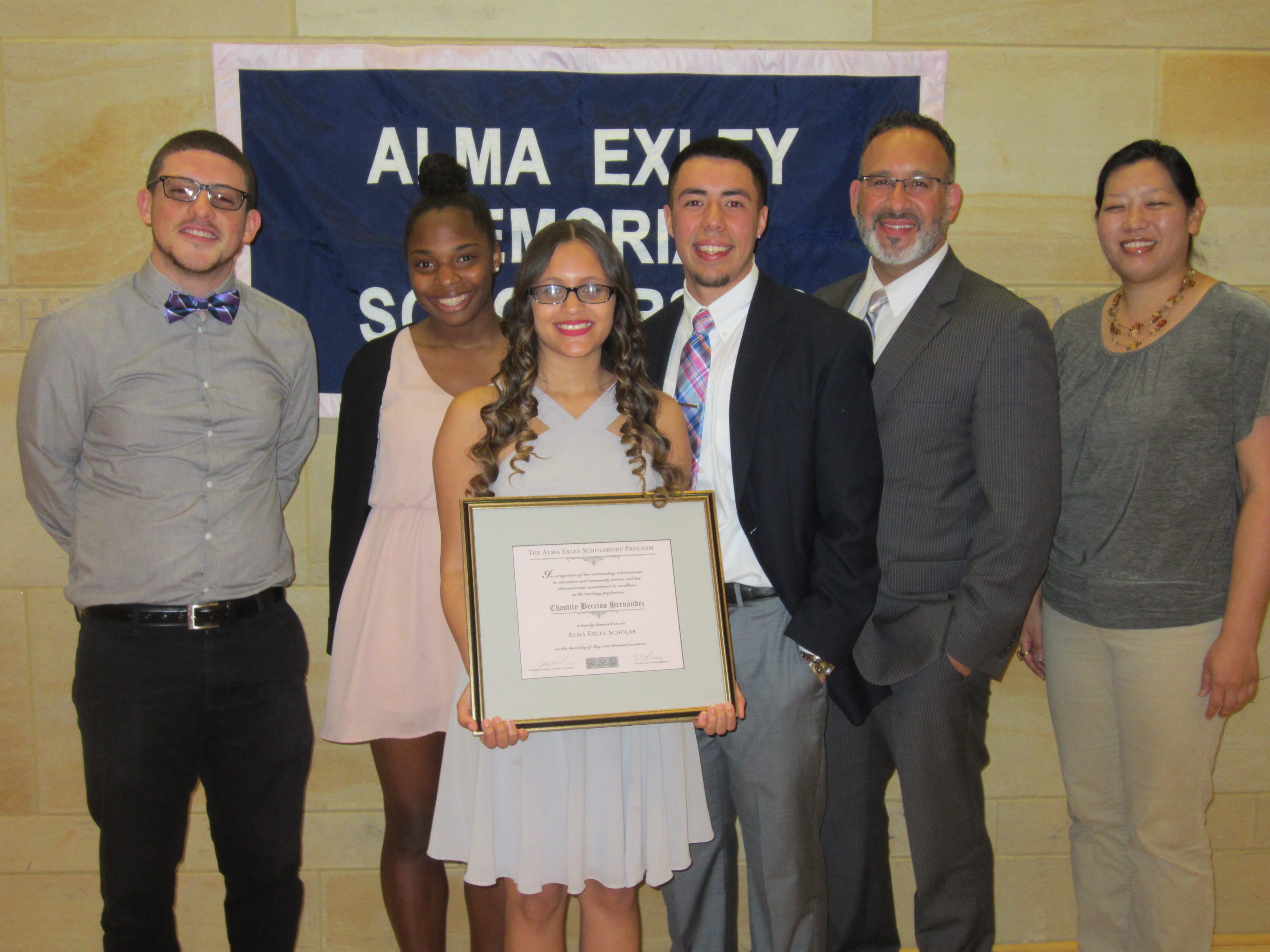 Keynote speaker Orlando Valentin Jr. offered an inspiring message, reflecting on lessons learned in his first year of teaching at Casimir Pulaski Elementary School in Meriden. Also speaking was Kaye Paddyfote, a senior at Conard High School, West Hartford, who shared her personal experience in making the case for greater diversity in the teaching profession.
Ms. Berrios was honored for her outstanding record of academic achievement and community service at Fairfield University. She is an English major with minors in Educational Studies, Spanish, and Latin American and Caribbean Studies. She plans to teach in a public elementary school after earning her master's degree next year at Fairfield.
She came to Connecticut from Puerto Rico at the age of nine with her mother, brother and two sisters. She devoted herself to learning English, did well in school, and graduated from High School in the Community, New Haven, in 2013.
At Fairfield, she has served as a Learning Service Associate at Fairfield University's Center for Faith & Public Life. In that capacity, she has facilitated discussions on service learning among students at the university. She is also a resident assistant, providing guidance to 45 first-year students.
During her sophomore year, she conducted educational research in Nicaragua. And she has served as a teacher assistant at the Summer Institute for the Gifted in Princeton, N.J.
She has served as a Spanish interpreter, collaborating with nursing students in a fall-prevention program at a Bridgeport community center. Her rapport with the program clients was so exceptional that state officials chose to make a video of her work as an example of best practices.
From 2011 to 2015, she was a manager at a Dunkin Donuts in New Haven, working 15-20 hours a week while maintaining a full course load at the university.
Ms. Berrios was highly recommended by university faculty, who describe her as "deeply committed to becoming a change agent as an urban educator." She has a strong commitment to community service, and she has demonstrated the ability to teach in traditional and non-traditional settings in two languages.
She is an activist focused on making a difference for students, especially English language learners. In her courses, she has been intent on helping her fellow students to understand the inequities of schooling in Connecticut, convincing some of her classmates to join her in working against racism and classism.