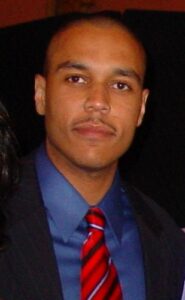 The honors keep piling up for Desi Nesmith, 2000 recipient of the Alma Exley Memorial Scholarship.
Most recently, Mr. Nesmith was recognized as the State of Connecticut's top first-year school principal.
The Connecticut Association of Schools chose him as the 2010 recipient of the "William Cieslukowski Outstanding First-Year Principal Award." Recipients are chosen for exemplary instructional and organizational leadership, a willingness to take risks and the ability to overcome adversity.
He is now in his second year at principal of America's Choice at SAND Elementary School on Main Street in Hartford. Previously, Mr. Nesmith's leadership was recognized when his school was the most improved elementary school in Hartford in the results of the Connecticut Mastery Test for 2009-2010.
In May 2010, Mr. Nesmith was among the alumni honored by the Neag School of Education at the University of Connecticut for their achievements.
In his most recent honor, Mr. Nesmith was recognized for his work in facilitating his school's transition to the America's Choice education design and for producing the highest gains on the Connecticut Mastery Test of any elementary school in the district. "It's truly an honor to be recognized," Mr. Nesmith said. "But the real credit goes to our students, their parents and to our dedicated teaching staff. I also want to thank America's Choice for its support throughout this process."
Established in 1998, the America's Choice school design provides a combination of professional development, technical assistance and high-quality materials to help turn around schools that have a substantial number of students with difficulty meeting standards. Since then, more than 1,000 schools nationwide have adopted the design.
Mr. Nesmith's implementation of the America's Choice design in his first year as principal resulted in a 14.8 percentage point increase in his school's Overall School Index, the highest increase among elementary schools and the second highest in the entire district.
"Mr. Nesmith wasted no time introducing himself to the community and setting higher expectations for educational success even before the official start of schools," said Assistant Superintendent Christina Kishimoto, who oversees school redesign. "It was not long before the community was buzzing with talk about the new guy going door to door talking about the new school going into their familiar neighborhood building."
The new principal also aligned the seventh and eighth grades with the new Journalism and Media Academy giving students a strong writing component to their curriculum. Students also participated in a four-week summer program at the Simsbury Community Farm, where they participated in science and literary classes.
"Desi's contributions have given life, breadth and depth to the message and vision of America's Choice at SAND," said Jennifer Weiss, senior associate of America's Choice in New York City. "As a first-year principal, faced with seemingly insurmountable challenges and adversity, Desi remained focused and driven curtailing air supply to all potential fires by devoting time an effort where it matters most: with students and teachers."
A graduate of the University of Connecticut, Mr. Nesmith was a fifth grade teacher at Mayberry School in East Hartford, where he was named Teacher of the Year. He later became a Teacher in Residence in the Connecticut State Department of Education's School Improvement Unit, and then an Intervention Resource Specialist in the Hartford Public Schools.
"If my own children were just starting elementary school, I would want Desi to be their principal," said M. Leon McKinley, director of elementary education for Hartford Public Schools. "He's that good for children."
Posted October 8, 2010