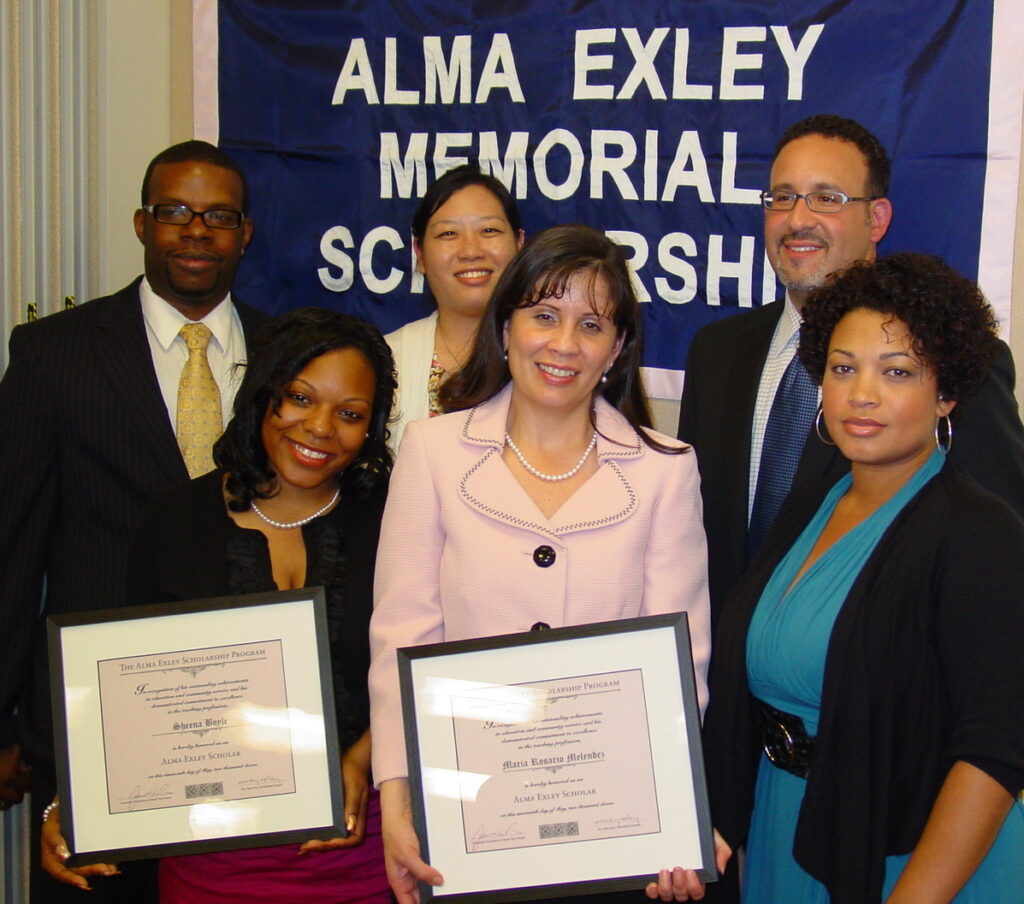 Congratulating Sheena Boyle, left, and Maria Rosario Melendez, center, are, from left, Khalil Graham, Chi-Ann Lin, Miguel Cardona and Violet Jiménez Sims.
Sheena Boyle of Waterbury and Maria Melendez of Bridgeport were honored as the Alma Exley Scholars for 2011 at a reception on Thursday, May 19, in the Noah Webster Library, West Hartford.
Educators and supporters of the program on hand to honor them included five previous recipients of Alma Exley memorial scholarships, Miguel Cardona, Khalil Graham, Violet Jiménez Sims and Chi-Ann Lin.
Dr. Cardona, guest speaker, focused on the role of teachers of color in inspiring all of their students.
Ms. Boyle graduated near the top of her class at Wilby High School and is a student in the five-year Integrated Bachelor's and Master's Program at the University of Connecticut. She has a double major in English literature and English secondary education.
Ms. Boyle is an outstanding student at UConn, where her name consistently appears on the Dean's List. She also is a student worker at the Osher Lifelong Learning Institute. In connection with her studies in UConn's Neag School of Education, she has served as peer mentor, a kindergarten tutor and a mentor in the Connecticut Collegiate Awareness and Preparation Program.
Other activities at UConn have included the cheerleading squad, the Teacher Education Student Association, and the Black Student Association. She has remained active in the Waterbury community by coaching the Waterbury Knights Cheerleading squad and volunteering for the NAACP, Grace Baptist Church, and Big Brothers/Big Sisters.
She expects to receive her bachelor's degree in May 2011 and her master's degree in May 2012, and plans to teach in an urban school system.
Ms. Melendez received her teaching credentials in the Connecticut Alternate Route to Certification (ARC). She has been teaching Spanish at Cesar A. Battala School in Bridgeport since September.
She earned a bachelor's degree in special education from the University of Costa Rica in 1999. In San José, she was a elementary special education teacher, serving students with severe cerebral palsy and multiple disabilities. She was also a secondary special education teacher for deaf and mentally retarded students and those with learning or behavioral difficulties.
She immigrated to the United States in 2006 and served as a volunteer teacher and a special education teacher's assistant at Read School, Bridgeport, before entering the ARC program.
She is proficient in Costa Rican Sign Language as well as American Sign Language. She has also completed the Nonviolent Crisis Intervention Training Program, which promotes early intervention and non-physical methods for preventing or managing disruptive behavior.
Posted May 20, 2011