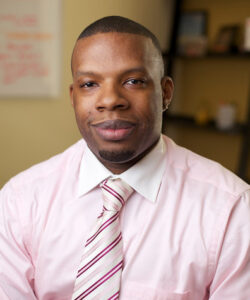 It's a rare 27-year-old who has a doctorate and a position as a school principal. But Khalil Graham is a man in a hurry.
"I've never been a person to wait," he told me in a recent phone conversation. "I'm excited about making change happen as quickly as possible."
Dr. Graham has been focused on a career in educational leadership since being honored as an Alma Exley Scholar in 2010. He received his doctorate from the University of Kentucky in 2013, and now he is embarking on his newest challenge as founding principal of IDEA Walzem College Prep, a public charter school that will open in August in San Antonio, Tex.
And oh, by the way, in 2013 he got married (to Ashlei Harden, also a graduate of the University of Kentucky), all the while supporting his 13-year-old brother, Maurice.
Today Dr. Graham finds himself a world apart from that of the Brooklyn teenager of a decade ago who made some "poor choices." At the age of 16, he dropped out of high school and found himself on the streets of New York City.
His grandmother, who was raising him, gave him some tough love by telling him that he couldn't live with her if he wasn't in school. He left home and rode the subways until heading back to school a month later.
After Khalil completed 11th grade, his fortunes took a turn for the better when he received a scholarship to the prestigious Loomis Chaffee School in Windsor, Conn.
Next stop on his educational journey was the University of Richmond, where he played varsity football, studied hard, volunteered in the community, and was chosen as the commencement speaker for the class of 2008. He pursued a master's degree at Sacred Heart University, while gaining experience teaching in New Haven, Bridgeport and Stamford, Conn.
He gained more experience in the classroom at Kentucky, but at a higher level. As a doctoral student, he taught classes in organizational leadership and educational data analysis.
"I was the youngest person in the room – and the person who was teaching the class," he said. "I really enjoyed it." Now he is applying his academic theory and practical experience to the task of hiring faculty and administrators and fulfilling his vision for the new school in the Northeast section of San Antonio.
IDEA Walzem will be the 18th college-preparatory school established in recent years by the fast-growing IDEA charter-school organization. The schools in the Rio Grande Valley, Austin and San Antonio proudly proclaim that 100 percent of their graduates have been admitted to college in the past seven years.
Recalling his rocky road as a teenager in Brooklyn, Dr. Graham said, "Growing up in poverty, I had lots of opportunities to make poor choices. I was fortunate to have supportive people around me who kept me on the straight and narrow."
Now, because of his diverse experience, he feels able to empathize and communicate with high-performing students as well as those who are struggling.
As I write these words about Dr. Khalil Graham, I'm in awe of what he has accomplished. I'm proud to count him among the many valued members of our Alma Exley Scholarship family. And I'm grateful for the support of all the donors who have enabled our program to help launch the careers of Dr. Graham and the other outstanding Alma Exley Scholars.
– Woody Exley