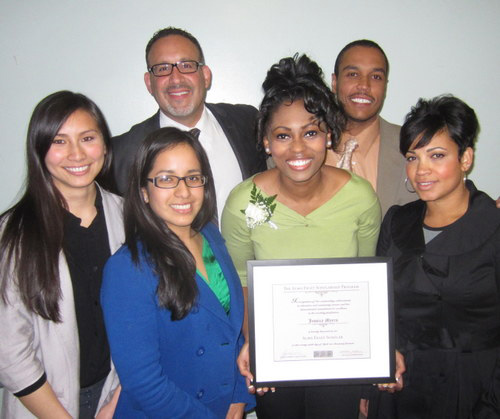 Jessica Myers, a senior at Southern Connecticut State University, was honored as the 2014 Alma Exley Scholar at a reception on April 29 in West Hartford. Five previous scholarship recipients were on hand to congratulate her.
Surrounding Ms. Myers in the photo above are, from left, Jessica Raugitinane (2012), Margaret Seclen (2013), Dr. Miguel Cardona (1998), Desi Nesmith (2000) and Violet Jimenez Sims (2008). Ms. Myers, a graduate of Cooperative Arts and Humanities High School in New Haven, is pursuing a Bachelor of Science in Education and a Bachelor of Arts in Liberal Studies, with minors in English and French.
Guest speaker at the reception was Jessica Raugitinane, a previous recipient who taught and did research in London during the fall 2013 semester in her final year of five-year Integrated Bachelor's/Master's Program at the University of Connecticut.
Ms. Myers, a member of SCSU's Urban Education Fellows program, is exploring issues related to race, ethnicity, culture and poverty in education, which will prepare her to fulfill her goal of teaching in an urban school district.
Her energy and commitment have led her to be selected to teach in an after-school program in New Haven called Rain of Hope. This year she has been active in recruiting other minority students to pursue careers as public school teachers.
Ms. Myers is particularly interested in exploring educational methods that will allow her to make academic content relevant to her students. She is developing a curriculum to engage urban students in real-life problem solving.
Before entering SCSU, she studied at American Musical and Dramatic Academy in New York City. Since enrolling at SCSU, she has strengthened her fluency in French by studying at Cité Université in Paris. While meeting the demands of her academic and extra-curricular activities,
Ms. Myers works as a residential counselor at a group home for children and adults with disabilities. She has a bright future ahead of her, and we at the Alma Exley Scholarship Program are pleased to play a part in helping to launch her career in education.