Chi-Ann Lin has brought much more than book learning to her teaching of East Asian Studies at Staples High School in Westport.
Since joining the faculty in 2001, she has traveled extensively across Asia. She has been accepted into study programs that have taken her to Japan, South Korea, China, United Arab Emirates, Turkey and Indonesia. She has soaked up the history and culture of these countries, enriching her classes with knowledge that can be gained only by firsthand experience.
We honored Ms. Lin with an Alma Exley Scholarship in 1999. Since then, I have enjoyed hearing about her travels when we met at our annual receptions and meetings of the selection committee, on which she has served for several years.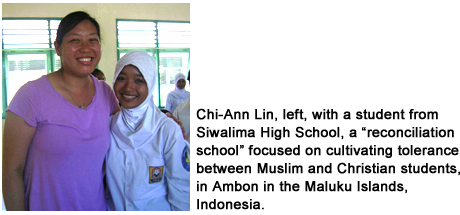 But I thought this was a good time to call her and learn more about how her globetrotting has broadened her experience and enriched her classes.
When Ms. Lin began her career in the classroom, she asked to teach East Asian Studies. She thought this would enable her to delve more deeply into this important subject – and also to learn more about her own ethnic background.
Ms. Lin was raised in Alabama and Connecticut by parents who had come from China and Taiwan before meeting in New York City. She attended Newington High School and graduated with honors from the five-year program at the University of Connecticut in 2001.
After taking the position in Westport, she applied to the Fulbright Memorial Fund and was chosen for the program that took her to Japan in 2007 with 200 other American teachers. She spent three weeks in Tokyo and Himeji, learning about Japanese history, politics, education and culture. Returning home, she created a blog for her students. Her extensive photos and commentary stimulated lively discussions in her classroom.
"That's when I got the travel bug," she said, explaining that she continued to apply for foreign study programs. During the summer of 2008, Ms. Lin participated in a Yale PIER (Programs in International Educational Resources) Institute focusing on the Silk Road, a major, ancient trade route across China. After attending lectures at Yale, she visited western China and returned home via stops in Dubai, the United Arab Emirates, and Istanbul, Turkey.
The next summer she participated in a two-week Korean Studies Workshop based at Yonsei University in Seoul.
Finally, in the summer of 2010, she spent over a month in Indonesia with a Fulbright Hays Group Project Abroad. This enabled her to visit several islands of the archipelago, and stay at an Islamic boarding school.
"In Japan, I learned about the impact of Confucianism on the culture," she said. "Traveling to western China and Indonesia opened my eyes to the presence of Islam in Asia."
Experiences gained in her travels have inspired new ideas for her teaching and new perspectives on history and culture to share with her students.
"As an Asian American, I feel an obligation to offer my students an accurate and meaningful curriculum to help them learn about a region that is sometimes misunderstood," she said.
"Each year, more Asian American students have enrolled in the East Asian Studies course," she said. "They want to get a better understanding of their culture and history, and I believe that my travels have helped me to give them a more meaningful learning experience."
Ms. Lin said that one of the most important lessons she has learned as a teacher is the importance of being a lifelong learner. She hopes to continue exploring the world and sharing her newfound knowledge with her students.
And she urges other teachers to take advantage of the kind of programs that have benefited her. "There are a lot of programs out there," she said. "They can make a big difference in bringing a fresh approach to the classroom." Her programs were fully funded by the sponsoring organizations, except for the Indonesia and Silk Road trips, for which she paid part of the cost.
Each of our Alma Exley Scholars is having an impact in a way that is unique to their individual interests and talents. I'm proud of all of them, and I'm glad this website gives me the opportunity to let you know what they are accomplishing in their diverse careers.
– Woody Exley
Posted September 8, 2011