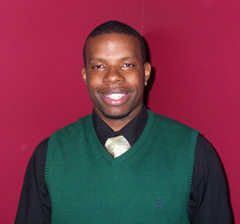 Since receiving an Alma Exley Scholarship in 2010, Khalil Graham has had a laser-sharp focus on earning his doctorate in educational leadership. But this summer he is putting students first.
He is working in Sacramento at the national headquarters of StudentsFirst, an education reform organization founded last year by Michelle Rhee, the former chancellor of the Washington, D.C., public schools.
Since Mr. Graham moved from the green hills of Kentucky to the palm tree-lined streets of the California state capital, I gave him a call to see how things were going.
I learned that he is immersed in an ambitious drive to build a national organization with a million members in its first year of existence.
He is one of 17 summer associates at StudentsFirst from law schools, business schools, schools of education and the teaching ranks. He serves on the planning team, where he is helping to chart the future direction of the organization – trying to determine where to focus to have the greatest impact.
Meanwhile, Mr. Graham is learning a lot about how politics interfaces with education across the country. It's essential to understand the political process, he says, in order to succeed in bringing about large-scale changes in the educational system.
"For anyone who wants to be involved in educational reform, it's important to understand why schools are they way they are," he told me, "and to see why change hasn't been as progressive as we want to see it.
"You can't make changes in the schools until you make changes in the legislatures and Department of Education," he said.
From his position at StudentsFirst, Mr. Graham is getting a broad view of reform efforts in the states and at the national level.
"Once you see the big picture, it makes it easier to figure out, Where do I need to be in this change process to have the biggest impact?" he said. "Do I need to be somebody who works with the legislatures to make sure the right policies are being pushed? Do I need to be somebody in the schools who can implement these policies? You've got to find a place that works for you."
Michelle Rhee has said she started StudentsFirst because "for too long our educational policies have focused on adults, not kids." She sees her organization as a catalyst in bringing about change by placing a higher priority on the needs of children.
As Mr. Graham observed, "The adults in the educational system – the teachers, the school boards, the politicians — have been well represented. But the students – those who are being affected by the educational system – don't have representation."
He explained that StudentsFirst is focused on making sure that students are represented when legislatures write laws and when various factions negotiate policies affecting kids.
"Hopefully, students' voices will be heard," he said, "and students will be represented in terms of what's best for their education in the future."
Mr. Graham acknowledged that StudentsFirst has received criticism from some educators, but he said the negativity has come from people who are afraid of changing the status quo.
"This is not an organization that's trying to fight the unions or fire teachers," he said. "We want what's best for the students, and sometimes this means contradicting what's best for adults."
Graham will return to the University of Kentucky in September to resume his doctoral program. His ambitious goal is to complete the program by the end of 2012.
His educational journey began in the public schools of Brooklyn, N.Y., where he was raised by his grandmother. He attended Loomis Chaffee School in Windsor, Conn., on a scholarship. Then he earned a bachelor's degree from the University of Richmond and a master's degree from Sacred Heart University in Fairfield, Conn.
Everyone affiliated with the Alma Exley Scholarship Program is proud that he is a member of our "family," and we wish him the best in his efforts to make a difference for the youth of our country in the years ahead.
– Woody Exley
Posted August 2, 2011