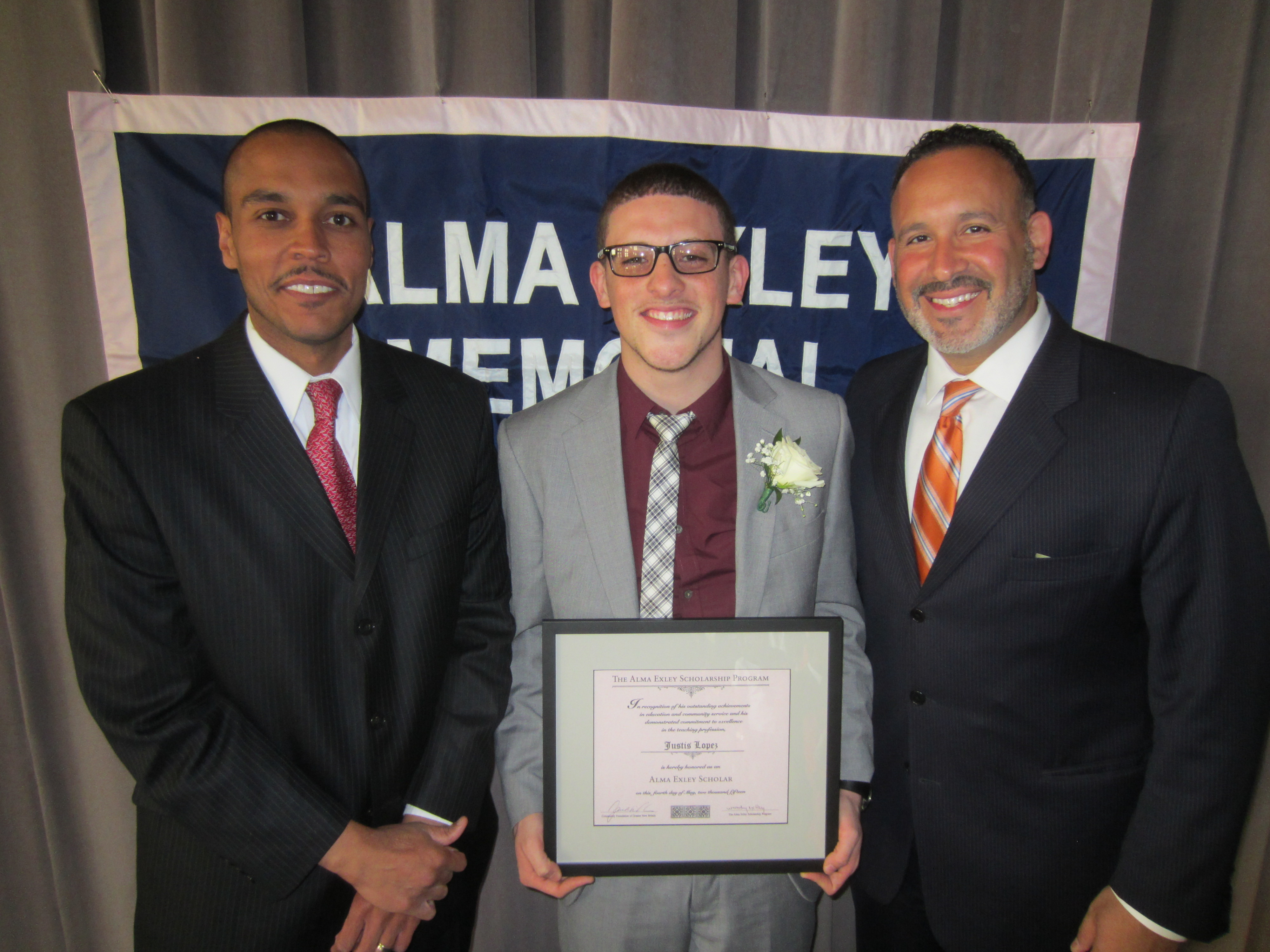 Justis Lopez of Manchester, a student at the University of Connecticut, has been chosen as the Alma Exley Scholar for 2015. Educators, friends and supporters of the program honored him at a reception. on Monday, May 4, at the Elmwood Community Center in West Hartford.
Welcoming Justis into the Alma Exley Scholarship Family were previous recipients Desi Nesith, principal of Metacomet School, Bloomfield, left in photo above, and Dr. Miguel Cardona, performance evaluation specialist in the Meriden Schools, at right.
Justis, a graduate of Manchester High School, is a student in the five-year Integrated Bachelor's and Master's Program in the Neag School of Education at UConn. He received a B.S. in Education with a major in history in May 2014 and is scheduled to receive an M.A. in Education on May 9, 2015.
He has an outstanding record of academic achievement, public service and campus leadership. As he says, "Nothing great is achieved without enthusiasm." And with his enthusiasm and ability, he has the potential to do great things as an educator.
His flair for leadership became apparent early in his UConn career. He received the Emerging Leader Student Life Award as a freshman. This recognized his leadership in programs to orient and support new students.
He has been active in a summer program sponsored by Student Support Services to assist low-income, minority students who are the first in their families to attend college.
Justis has lent his considerable talents to a variety of initiatives to promote diversity and multicultural understanding at UConn and beyond.
He was one of 14 students chosen to take the lead in fostering an inclusive community at the university. And he has worked in an inter-university initiative with the American Association of Colleges for Teacher Education (AACTE) to broaden the demographic makeup of the teacher workforce.
He has been involved in the K-5 College Bound Program, which brings youngsters to UConn to give them a taste of college life and encourage them to aspire to higher education.
He has been active in other campus organizations such as Bring Awareness to Latino Ethnicities (BALE), the Puerto Rican and Latino Cultural Center, and Leadership in Diversity (LID), intended to "put the lid on the achievement gap."
During the summer of 2013, he served as an intern at the University of Albany. Working in the Office of Intercultural Student Engagement, he implemented the Brother 2 Brother mentorship program for incoming freshmen. He also built the Gender and Sexuality Resource Center to cultivate an inclusive community for LGBTQ students.
In the summer of 2014, he served as a public policy intern in Washington D.C with the Council For Opportunity In Education. In that position he worked with educational advocacy groups in the U.S. Department of Education in conjunction with the White House and drafted proposals for educational programs to be considered by Congress in 2015.
He was a familiar figure at UConn sports events performing as Jonathan the Husky as a sophomore. And he was the UConn Homecoming King in 2014.
He also has made a name for himself as master of ceremonies and DJ for more than 300 social events. Based on this experience, he has established Justis League Entertainment, which provides music and photography for school functions, weddings and business events.
He won a TEDx Student Speaker Award in 2013. He was one of a number of college students participating a program patterned after the well-known TED (Technology, Entertainment, Design) events.
While pursuing a wide variety of extra-curricular activities, Mr. Lopez has achieved a strong academic record and has won praise from the faculty for outstanding performance in his student teaching assignments.
He is a most deserving scholarship recipient, and we are delighted to welcome him to the Alma Exley Scholarship Family.