Since we honored Dr. Sibani Sengupta in 2009, she has received a number of honors for excellence, dedication and leadership in education.
The Connecticut Association of Schools has selected her as the High School Level Exemplary Educator of the Year for 2014-2015. She also has received the 2014 Local Hero Award from the Ronald McDonald House Charities of Connecticut and Western Massachusetts. In 2010, the National Association of Biology Teachers presented her with the Outstanding Biology Teacher Award for Connecticut.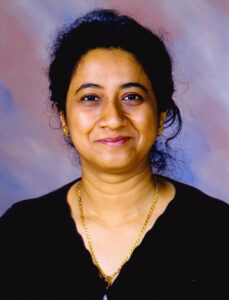 Dr. Sengupta is a science teacher and dean of academic affairs at Sacred Heart Academy, Hamden, Conn.
The CAS award recognizes outstanding educators who have had a positive impact on their schools through excellence in education, involvement with students, staff and parents in and out of the classroom, and leadership in their profession.
The Local Hero Award honors 10 outstanding teachers from Connecticut and Western Massachusetts for their hard work, dedication and commitment to area students.
Dr. Sengupta is the third Alma Exley Scholar to be honored by CAS. In 2010 Desi Nesmith was named the Best First-Year Principal in Connecticut, and in 2012 Dr. Miguel Cardona was chosen as Connecticut's National Distinguished Principal.
Dr. Sengupta has a Ph.D. from the University of Connecticut and did post-doctoral research at the UConn Health Center. Then she earned her Connecticut teaching credentials through the Alternate Route to Certification.
She left a career as a research scientist to teach science at Sacred Heart Academy in 2003. After serving as chair of the science department for six years, she was named dean of academic affairs in 2014. She continues to teach advanced-placement biology, human gene discovery and microbiology.
In nominating Dr. Sengupta for the CAS award, Sr. Mary Jane Paolella said she is known for creative, imaginative lessons that are extremely successful and engaging.
Sr. Paolella said that freshmen appreciate her biology classes so much that 75 percent of them sign up for a science elective (genetics, microbiology or gene discovery) in addition to chemistry, hoping that she will be teaching one of those courses the following year.
As an example of Dr. Sengupta's excellence in teaching, Sacred Heart Dean of Students David Alexandro noted that her students have designed and standardized a high school adaptation of a procedure called RNAi. Her article, "Bringing RNA Interference (RNAi) into the High School Classroom," was published in the "How To Do It" section of the November/December 2013 issue of The American Biology Teacher magazine.
"Excellent teaching requires more than just teaching the subject," Dr. Sengupta said. "It is essential to constantly motivate students, encouraging them to develop a zest and passion for the subject, along with their unique, analytical approach towards learning."
Dr. Sengupta sets an example for her students by her love for life-long learning. "Over the past couple of years," she said, "I have come to fully appreciate the true meaning of Tyron Edwards's famous quote, 'If you would thoroughly know anything, teach it to others.'"
Hearty congratulations from all of us at the Alma Exley Scholarship Program to Dr. Sengupta for this well-deserved recognition.
The Connecticut Association of Schools (CAS) is a private, non‐profit organization whose purpose is to improve the learning of every student in Connecticut by contributing to the improvement of elementary and secondary education. CAS works to serve the collective interests and needs of Connecticut schools by providing leadership and professional development services to promote excellence in the education of all students.