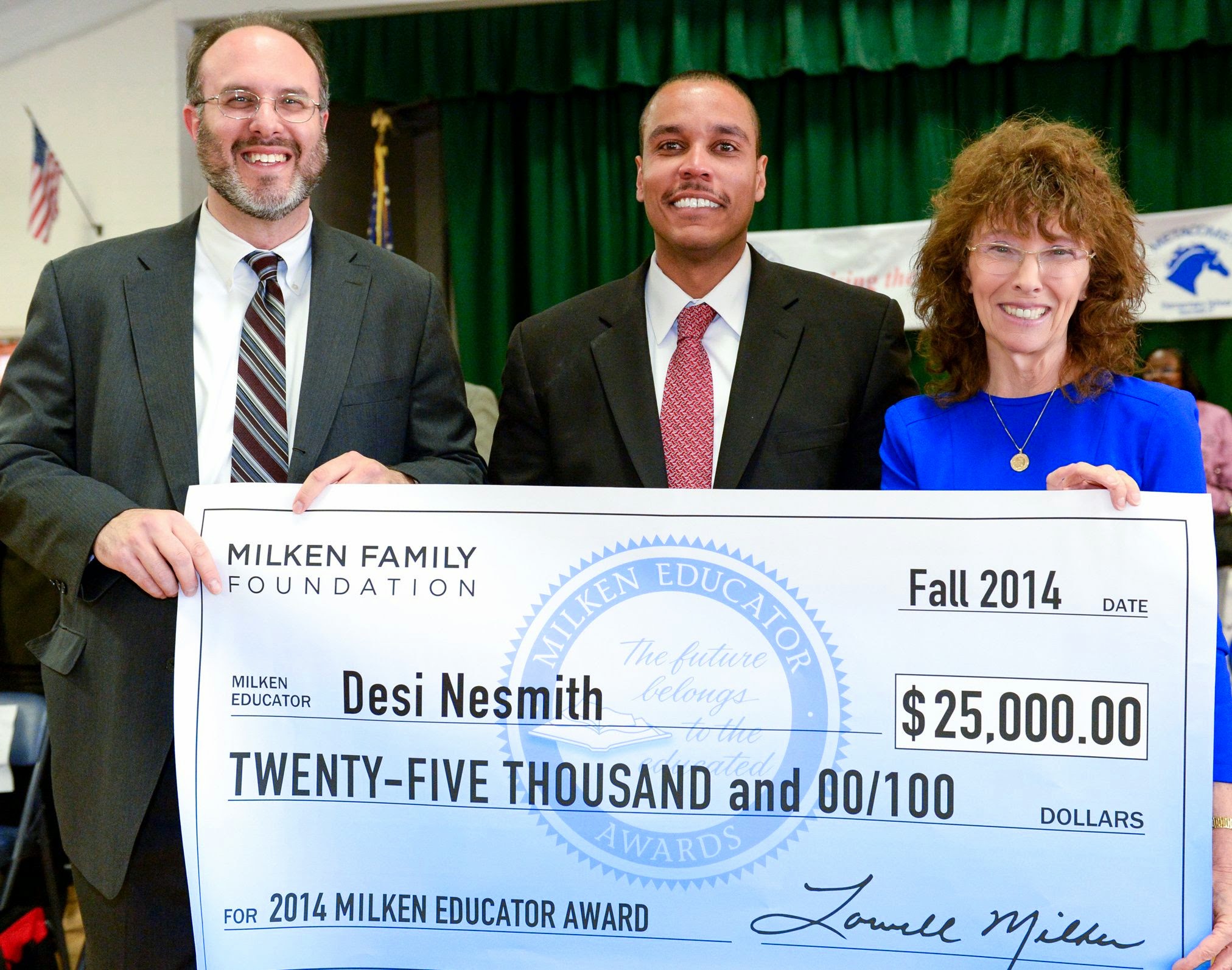 Our selection committee really knows how to pick 'em!
When we selected Desi Nesmith as the Alma Exley Scholar for 2000, we recognized his potential to become an outstanding educator.
Our confidence was reinforced a few years later when he was honored as Teacher of the Year at Mayberry Elementary School in East Hartford.
We weren't surprised when he received the Promising Young Professional Award from his alma mater, the Neag School of Education at the University of Connecticut, in 2009.
That was the year he became principal of SAND Elementary School in Hartford. In his first year, he transformed the school from one of the state's lowest performing schools to one of the most improved. And he was recognized as Best First-Year Principal by the Connecticut Association of Schools.
Since 2011 Desi has been principal of Metacomet School in Bloomfield. Under his leadership, student academic performance has improved dramatically and the achievement gap has been narrowed significantly.
In recognition of his outstanding leadership, the Milken Family Foundation has honored Desi with the prestigious Milken Educator Award, the only one in Connecticut this year. The honor includes an unrestricted $25,000 prize.
The award was presented at an assembly which Principal Nesmith thought had been scheduled to honor the children for their academic achievements. He introduced State Education Commissioner Stefan Pryor, who congratulated the students for reducing the third-grade achievement gap in reading by 19 percent, with reading scores exceeding the state average by 8 percent.
Then Dr. Jane Foley of the Milken Family Foundation caught Desi completely by surprise by announcing that he had been chosen for the prestigious award. (Dr. Foley and Commissioner Prior are with Desi in the photo above.)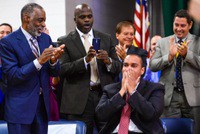 After composing himself from the surprise of his life, Desi told the students that not too many years ago, he had been sitting right where they were, and that they, too, could fulfill their dreams and aspirations. (He grew up in Bloomfield and attended Metacomet School for first and second grades.)
It was such a pleasure for me to see Desi receive this much-deserved honor. I have followed his career since he received our scholarship as an undergraduate at UConn. It is abundantly clear that Desi cares deeply about his students and wants every one of them to succeed. Moreover, his inspired leadership is enabling them to succeed.
Seeing scholarship recipients like Desi grow, mature and have an impact in their careers is what makes being involved with the Alma Exley Scholarship Program so rewarding. Everyone who has supported the program over the years can take some satisfaction in knowing they have played a small part in helping to launch the careers of a wonderful group of outstanding educators.
– Woody Exley