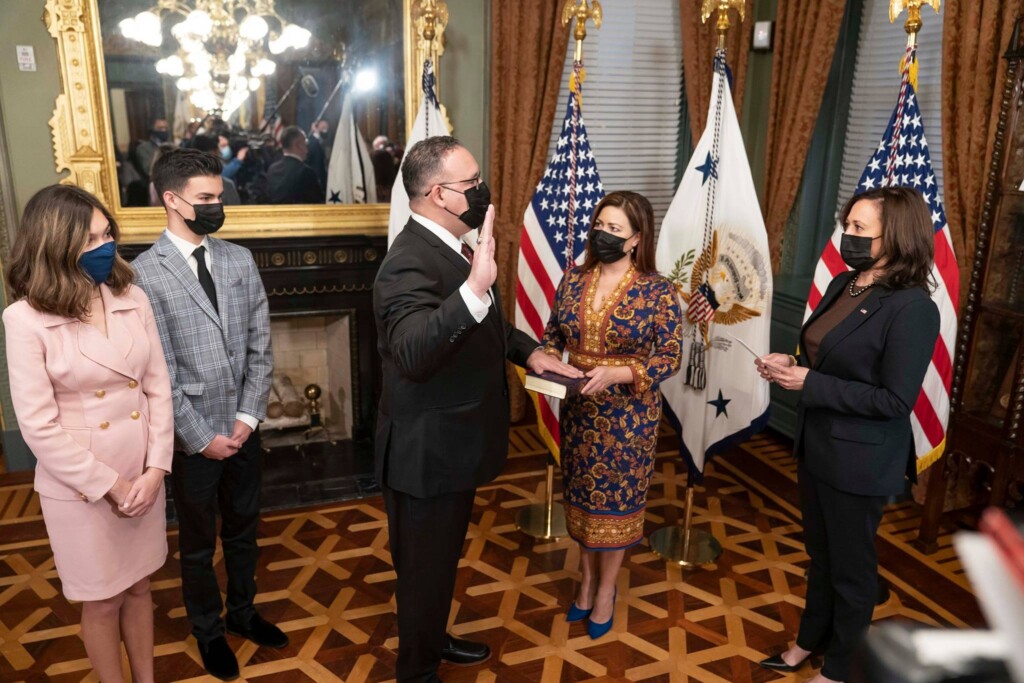 What a thrill to watch on Facebook as Vice President Kamala Harris administered the oath of office to our own Miguel Cardona as U.S. Secretary of Education. How gracious of Vice President Harris to send warm and personal greetings to Miguel's parents, Hector and Sarah Cardona, who were watching at home in Meriden.
Hearty congratulations to Dr. Cardona and best wishes for success in meeting the challenges of your new position. We know you will serve as an excellent representative of the nation's students and teachers as well as the public at-large.
Dr. Cardona talked about his plans for addressing the challenges facing him when George Stephanopoulos interviewed him on ABC's Good Morning America on his second day on the job. Click here to view the interview (after a brief ad).
When we honored Miguel as an Alma Exley Scholar in 1998, the selection committee knew that he had a bright future. And he has fulfilled our expectations again and again throughout his remarkable career in education.
Dr. Cardona is just one of the many talented and dedicated individuals whom we have honored and who have gone on to make a difference as outstanding teachers and educational leaders. Supporters of our program over the past 25 years can feel good about playing a part in helping them to launch their careers.
Roots in Meriden
When Miguel was born, his parents lived in a public housing project in Meriden. He started school speaking Spanish. After graduating from Wilcox Technical High School in Meriden, he enrolled Central Connecticut State University with plans to become a teacher.
At Central, he was named one of the first Alma Exley Scholars. Upon graduation, he took a position as a fourth-grade teacher in his hometown of Meriden. His talent was quickly recognized, and at age 28 he became the youngest principal in the state. In 2012 he was named Connecticut's Principal of the Year. He also served as co-chairman of a state task force examining achievement gaps and recommending remedies to the legislature.
He earned his doctorate at the University of Connecticut and was named Meriden's assistant superintendent for teaching and learning. Then last year he became Commissioner of Education for the State of Connecticut.
First in the Nation
Under his leadership, Connecticut recently became the first state to require high schools to offer elective courses in Black and Latino studies.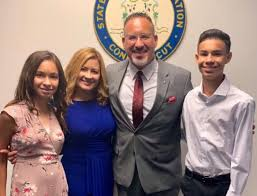 As a candidate, Biden indicated that he would choose an education secretary with experience in world of K-12 schools. Dr. Cardona fills that bill, having worked as a teacher, principal and administrator.
As reported in the Hartford Courant, U.S. Richard Blumenthal said, "His leaving would be bittersweet because he's great and we'd miss him, but it's precisely because he's great that he would be a valuable education secretary."
Correcting Inequities
Dr. Cardona has long focused on correcting inequities among students in our public schools. He has consistently voiced concern that the pandemic was hurting certain students more than others.
After the pandemic forced schools to close, he worked to procure devices for students who needed them to participate in remote schooling and pushed to reopen buildings.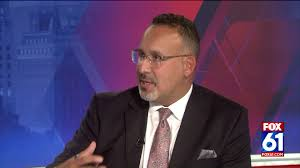 Impact of the Pandemic
"While many things are unclear during this time in our nation's history, there is one thing that is not: this epidemic has further exacerbated inequities that have been there all along," he wrote in May.
The new education secretary's first task will be to help guide schools through the final phase of the pandemic. Biden has said he wants to see schools reopen and to give them the support they need to do so, including "clear, consistent, effective national guidelines."
Those of us who know Dr. Cardona and have followed his career over the years know that he is the right man for that job.