HARTFORD (August 7, 2019) — For Dr. Miguel Cardona, family is what it's all about.
That was apparent this morning as the Meriden educator celebrated with his extended family as he was sworn in as the Connecticut Commissioner of Education at the State Department of Education.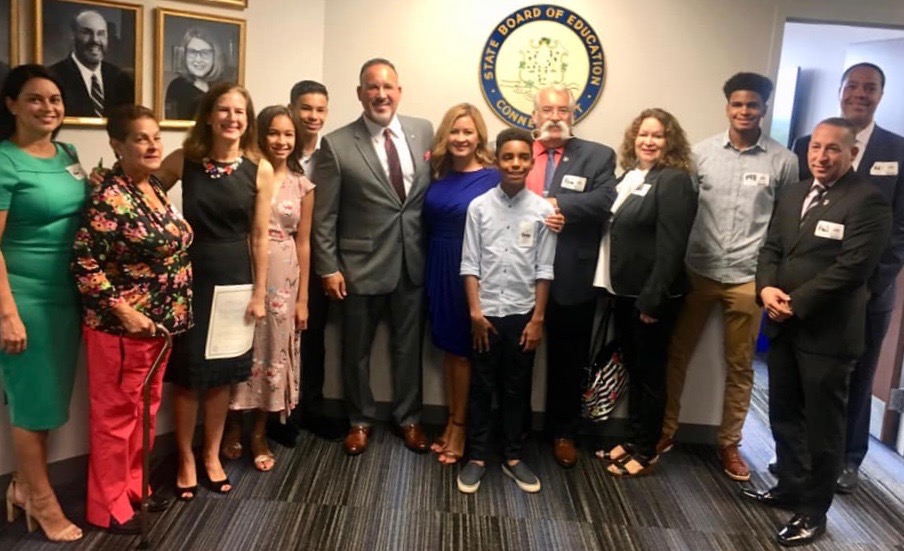 Lt. Gov. Susan Bysiewicz, who administered the oath of office, said, "The governor and I can't think of a better person to be part of our experienced and diverse team." She cited Dr. Cardona's extensive experience in the classroom, his being named a National Distinguished Principal, his leadership role in the large Meriden school district, and his teaching and mentoring educators (as an adjunct professor at UConn).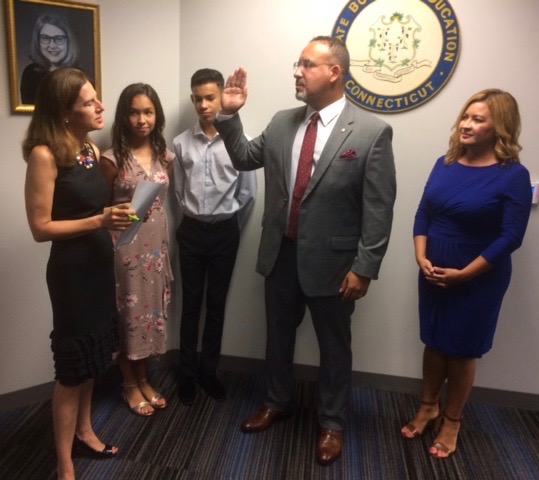 The selection committee of the Alma Exley Scholarship Program is proud to have chosen Miguel Cardona for a scholarship in 1998 when he was an undergraduate at Central Connecticut State University. He went on to earn master's and doctoral degrees from UConn.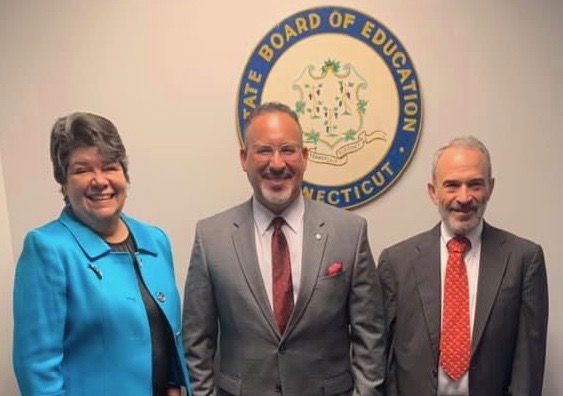 He began his career in his hometown of Meriden as a fourth-grade teacher at Israel Putnam School. At age 27, he became the state's youngster principal when he was named to lead Hanover Elementary School. Since 2015, he had been serving as assistant superintendent for teaching and learning. In that position, he spearheaded the district's comprehensive drive to build a more diverse teacher corps.
Dr. Cardona takes pride in his roots in Meriden, where his father, Hector, served as a police officer for 32 years and his mother, Sarah, instilled in their young children a spirit of hard work, devotion to family and service to the community.
Dr. Cardona's sister and brother also have pursued careers in public service, Marisol as a social worker in the Meriden schools, and Hector Jr. as a sergeant detective with the Meriden police.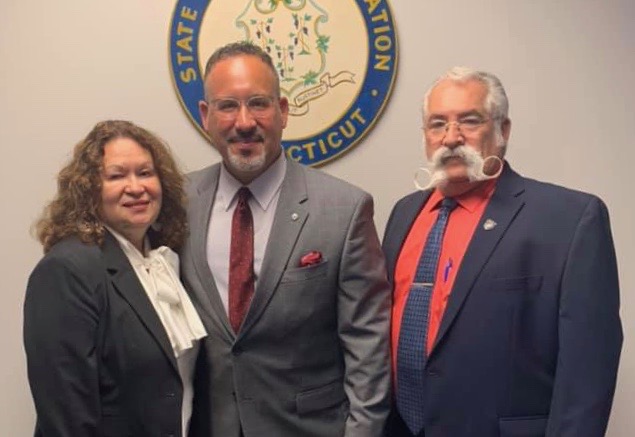 Over the years, Dr. Cardona has remained a strong supporter of the Alma Exley Scholarship Program, serving on the selection committee and offering advice and counsel. And he has been a faithful participant in our annual receptions, where he has joined with other previous recipients to honor their newest colleagues. Since he was selected in 1998, the only time he has missed a reception was when he was hosting a birthday party for his daughter, Celine.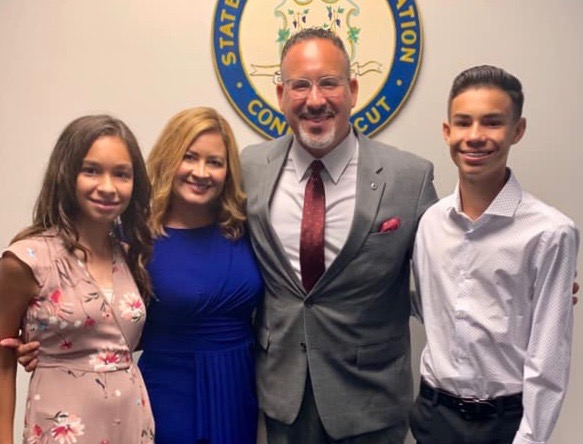 Dr. Cardona has had a big impact as a leader in Meriden and statewide. He co-founded the Meriden Coalition for Educational Excellence, an advocacy group that supports funding for the Meriden Schools. He has co-chaired the Connecticut Legislative Achievement Gap Task Force, addressing achievement disparities in our state. And he has served on a number of local boards of directors in his city.
In 2012 he was honored at the White House upon being named National Distinguished Principal by the Connecticut Association of Schools. Other honors have included the Meriden Wallingford NAACP Education Award for 2005, Connecticut Technical High School Alumni of the Year for 2006 and the Meriden Chamber of Commerce Shining Star Award for 2009.
Now he has the opportunity to have a significant impact across the state as Commissioner of Education. As a highly valued member of the Alma Exley Scholarship family, he exemplifies the values of our program. Through his commitment to serving the children of Connecticut, he provides an outstanding example to future recipients of our scholarship.
Alma would be delighted to know that a recipient of the scholarship bearing her name has ascended to the highest level of leadership of the public schools of Connecticut. What's more, she would be pleased to know that Ann Marie Hitchery, who was a colleague of hers in the Bureau of Professional Development, is now serving as Dr. Cardona's administrative assistant.
– Woody Exley