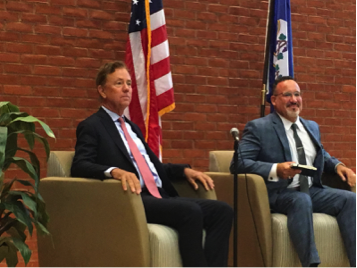 Connecticut Gov. Ned Lamont highlighted the need for more teachers of color during a back-to-school forum in Meriden that he led with State Education Commissioner Miguel Cardona.
Lamont mentioned that he signed a bill into law that aims to increase the recruiting and retention of minority educators. Overseeing the initiative will be the Teacher Recruitment Policy Oversight Council. Desi Nesmith, the state's chief school turnaround officer, is among the educators serving on the council. (Dr. Cardona and Mr. Nesmith received Alma Exley memorial scholarships in 1998 and 2000, respectively.)
Specifically, the law mandates that school districts throughout the state must hire at least 250 new minority teachers and administrators per year, and that at least 30 percent of the new hires must be men. The law also directs Connecticut to join interstate agreements to facilitate certification of teachers who move here from other states. And it provides aid for minority college students preparing to be teachers.
Students and educators attended the back-to-school forum at H.C. Wilcox Technical High School, Dr. Cardona's alma mater.
Lamont emphasized the need to recruit more minority teachers by noting that 91 percent of Connecticut public school teachers are white while over 40 percent of students are persons of color.
'I want role models.'
"It's really important that kids have folks they identify with," Lamont said. "I want role models. I want people that young people can look up to and identify and say, 'This could be me.'"
Christopher Keating, who covered the forum for CT Mirror, wrote that Lamont told reporters after the meeting that the state intends to move quickly to improve the recruitment of diverse educators in the next academic year.
"We're going to have more minority teachers, more male teachers in our school system starting next year," Lamont told reporters outside the school.
Schools Dealing with Society's Problems
Dr. Cardona said the state's public schools are facing a wide variety of problems that are prevalent in society.
"Kids can't learn if they're hungry," he said. "They don't learn as well if they're hungry. They don't learn as well if their teeth hurt. They don't learn well if they have housing instability."
Dr. Cardona, who previously served as an assistant superintendent in Meriden, has been co-chairman of a special task force on closing the achievement gap — a long-running problem in Connecticut, where test scores have traditionally been higher in the suburbs than in the cities.