Two Alma Exley Scholars are engaged in an initiative to bring more people of color into the educator workforce in Connecticut.
Dr. Violet Jiménez Sims, whom we honored in 2008, is managing director of academic programming for the Connecticut Teacher Residency Program (TRP), which provides a pathway for uncertified school personnel and others to gain teacher certification.
Theo Martinez, whom we honored in 2018, is an elementary teacher by day and teaches several courses in the TRP during evenings and in the summer. Currently, he is teaching a course called Teaching and Learning for Today's Learner to the incoming cohort of teacher residents, over 90 percent of whom identify as people of color.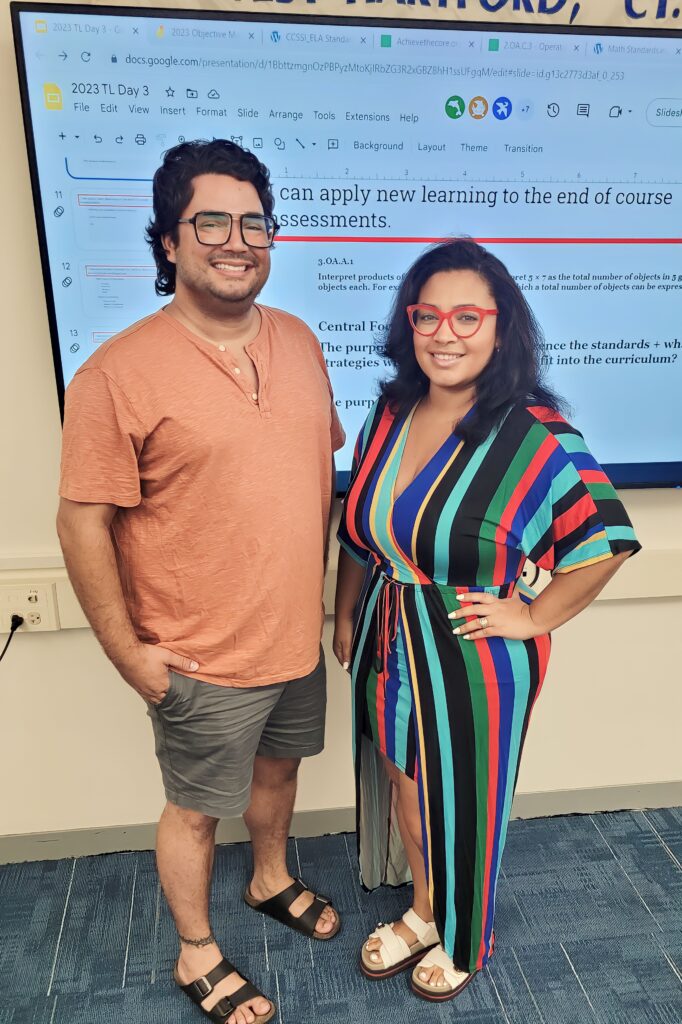 Dr. Sims meets up with Mr. Martinez in his classroom.
Candidates Have at Least a Bachelor's Degree
"To qualify for the Teacher Residency Program," Dr. Sims said, "candidates must have a minimum of a bachelor's degree, though some have graduate degrees and professional credentials in other fields. Also, they should have experience working with marginalized populations as well as a commitment to diversity. Many residents have worked in schools as paraeducators, associate instructors, tutors, or teaching assistants."
Candidates begin by taking courses during the summer, then spend the academic year in residency in a school under the guidance and supervision of a certified teacher. They take additional courses during the following summer. During their year-long residency, they receive a living wage and benefits. Afterwards, upon being hired as teachers, they receive mentoring support for three years.
In its four years of existence, the program has turned out 65 teachers for Connecticut elementary schools, and 90 percent are people of color.
Varied Experience
Mr. Martinez brings to his TRP classroom five years of teaching in a diverse elementary magnet school in South Windsor run by the Capitol Region Education Council (CREC). He also has taught in a state prison. He holds a bachelor's degree from UConn and master's degrees from the University of Hartford and the University of Southern New Hampshire, and he is working on a doctorate at the University of South Carolina (remotely).
"It's an honor to reconnect with Violet and to work together to meet the program's vision of disrupting current systems of inequity," Mr. Martinez said. "Working with these prospective educators reminds me of what I love about being in the classroom. Year after year, TRP recruits unique candidates who are committed to addressing the teacher shortage while increasing the diversity of the teacher workforce in Connecticut."
Reconnecting in the Classroom
Dr. Sims has known Mr. Martinez for years through their attendance at events sponsored by the Alma Exley Scholarship Program. Their paths crossed again this past year in her capacity as supervisor of the instructors in the Teacher Residency Program.
"Theo is a highly valued member of our faculty," she said. "He brings to the classroom a wealth of experience in teaching in diverse classrooms, whether in public school or prison, and he shares our commitment to bringing greater diversity to the teaching profession in Connecticut. We are so fortunate to have Theo as an instructor who is also a role model and a positive example of representation and impact in the teaching profession."
All supporters of the Alma Exley Scholarship Program may find it gratifying that two outstanding members of our scholarship family are working to fulfill Alma's vision of an education profession that looks like America.