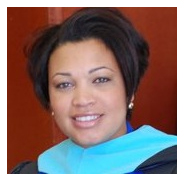 Alma Exley Scholars continue to distinguish themselves in the classroom and the community. Violet Jiménez Sims, whom we honored in 2008, was the keynote speaker at a program in remembrance of the Rev. Dr. Martin Luther King Jr. at Spottswood A.M.E. Zion Church in New Britain on Jan. 16, 2012.
Ms. Jiménez Sims is a Spanish teacher and co-advisor of the African American Club at New Britain High School.
Civic leaders who spoke included Timothy O'Brien, mayor of New Britain, and Ron Davis, president of the New Britain NAACP.
Ms. Jiménez Sims recalled the Rev. Dr. King as a leader who changed history through the force of his intellect and the power of his words. "He showed us how to fight injustice without violence," she said. "He gave his life for equality."
Reflecting on the history of our country, she said the suffering of the African American people has created a rich culture of courage and creativity.
"For every success story, however, there are still too many drop-outs and too many brothers in prison," she said. "The effects of slavery and racism on our society have not been dissolved."
Ms. Jiménez Sims pointed out that Connecticut has some of the country's best public school systems as well as the largest achievement gap.
She called for more teachers of color, pointing out that less than 10 percent of public school teachers in Connecticut are persons of color while minorities account for 36 percent of public school students. And one-third of the state's teachers of color are working in three major urban school systems.
I was pleased that she mentioned the Alma Exley Scholarship Program as an important initiative to encourage a more diverse teaching profession.
Ms. Jiménez Sims urged her audience to "take advantage of the freedoms that we do have, so that Dr. King's sacrifice was not in vain." And she said we need to continue working for racial harmony.
"What is racial harmony?" she asked. "I don't believe in a 'melting pot' or a 'color-blind society.' A melting pot implies that we need to assimilate. Why can't we validate and respect one another's customs and beliefs?"
Ms. Jiménez Sims concluded by quoting the following words from the Rev. Dr. King:
"If you have never found something so dear and so precious to you that you will die for it, then you aren't fit to live.
"One day some great opportunity stands before you and calls upon you to stand up for some great principle, some great issue, some great cause – and you refuse to do it because you are afraid; you refuse to do it because you want to live longer; you're afraid that you will lose your job, or you're afraid that you will be criticized or that you will lose your popularity… and so you refuse to take the stand.
"Well you may go on and live until you are 90. And the cessation of breathing in your life is but the belated announcement of an earlier death of the spirit.
"You died when you refused to stand up for right; you died when you refused to stand up for truth; you died when you refused to stand up for justice."
As part of her presentation, Ms. Jiménez Sims read an essay that she had written about her reaction to the use of the N-word by teenagers today. The essay is featured in the In Their Own Words section of this website.
– Woody Exley
Posted January 20, 2012