Dr. Miguel Cardona, 1998 Alma Exley Scholar, received the Education Award from the Meriden-Wallingford NAACP at its 19th annual Freedom Fund Dinner on October 23, 2015.
Dr. Cardona was appointed this year as assistant superintendent for teaching and learning in the Meriden Public Schools. He was one of several community residents honored at the dinner for their outstanding achievements.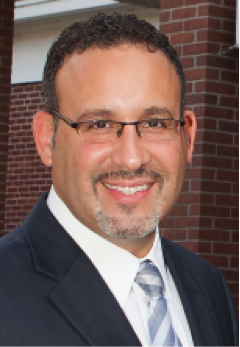 Thanking his family and coworkers in the schools, he said, "I'm very proud to work for the Meriden Public Schools, where we understand our work is to promote the cradle-to-college pipeline, not the school-to-prison pipeline."
The NAACP chapter also gave Dr. Cardona its Education Award in 2005, when he was principal of Hanover School in Meriden. A graduate of Wilcox Technical High School in Meriden, he received the Connecticut Technical High School Alumni of the Year Award in 2006, and he received the Shining Star Award from the Meriden Chamber of Commerce in 2009.
Dr. Cardona earned his bachelor's degree from Central Connecticut State University and his master's and doctoral degrees from Uconn. He is one of four previous recipients of the Alma Exley Memorial Scholarship who support the program by serving on the selection committee.