Orlando Valentin Jr., an Alma Exley Scholar who is his first year of teaching, has been chosen to participate in a study intended to improve teacher-preparation programs. Researchers from the University of Connecticut, the University of Virginia and Michigan State University will conduct the study.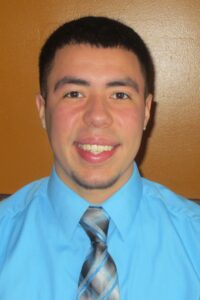 Mr. Valentin, who was honored with an Alma Exley Memorial Scholarship as a UConn student in 2016, is teaching fourth grade at Casimir Pulaski Elementary School in Meriden. He is among a number of graduates of the three universities and three other teacher-preparation programs who will be observed in their classrooms multiple times during their first and second years of teaching.
Dr. Dorothea Anagnostopoulos, executive director of teacher education at UConn, said, "We believe the study will provide new information on how we can improve teacher-education programs and how teacher-education programs can best work with elementary schools to support beginning teachers."
The Meriden Public Schools and other participating school districts are expected to benefit from the program in a number of ways. The universities will share with the schools what they learn about factors that support beginning elementary teachers. At the conclusion of the study, the universities will offer curriculum materials as well as professional development for teachers designed to support improvement in literacy and mathematics.
Dr. Miguel Cardona, assistant superintendent in Meriden, said, "In my visits to his classroom so far this year, I can see why he was one of our first hires. The relationship he has with his students and his effective pedagogy make him a valuable asset to the Meriden Public Schools."