When Ivy Horan was an elementary school student in Duxbury, Mass., she never saw books about people who looked like her.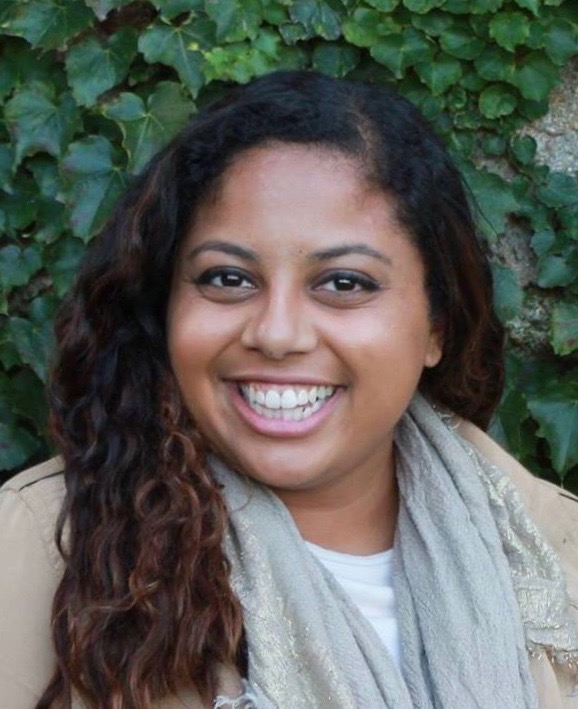 Last summer, as she began to prepare for her first teaching position, she decided to provide a different experience for her second graders at Mayberry School in East Hartford.
She posted an appeal on Facebook and other social media for donations of books on multicultural topics featuring diverse people.
"I got the idea for this multicultural book project from reflecting upon my own K-12 schooling experience," she said. "I realized that I never was exposed to diverse or multicultural books. This has been my motivation throughout my entire project: to ensure that my students are given more representative books than I was as a child."
UConn Graduate
Ms. Horan received an Alma Exley Memorial Scholarship in 2019 as a student at UConn. She received her master's degree in May 2020 and began her teaching career in September.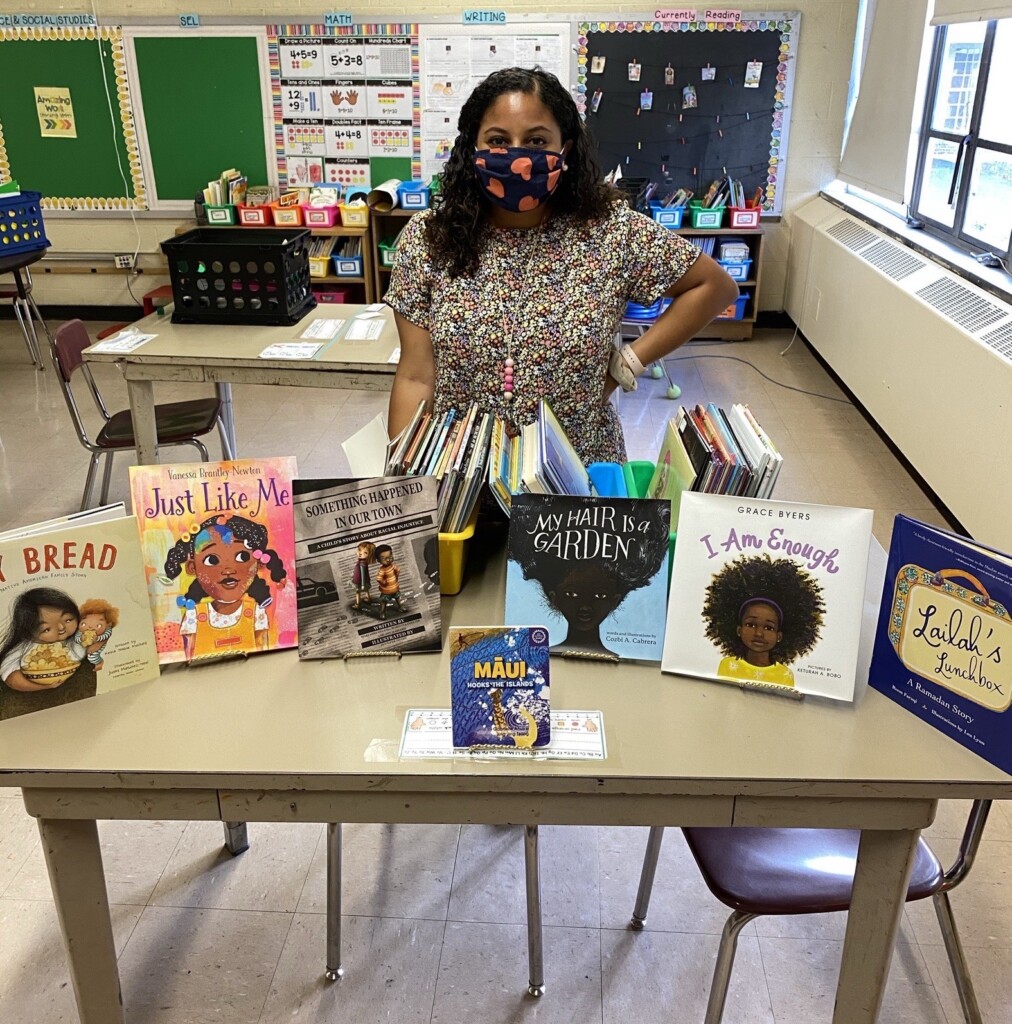 "I have collected more than 60 books that have characters from different backgrounds, races, cultures, religions, and with varying familial compositions," she said. "I am working on finding as many different representative and diverse books as I can for my classroom library."
Inspiring Diverse Students
This is relevant because all of Ms. Horan's second graders are students of color. Her class includes students who are Black, Latino and mixed-race. A number are English-language learners, who speak Spanish as well as African languages.
Click here to visit the Amazon site to contribute one or more books to Ms. Horan's classroom library.
The books in Ms. Horan's multicultural library are listed at the end of this story.
"I am extremely thankful for the donations," she said. "I received books from family members, friends, professors, and various people whom I worked with throughout my time at UConn.
"What was most surprising was that I also received books from a handful of old friends from middle school and high school whom I haven't talked to in years. It was amazing to see how everyone, whether I have remained close to them or not, came out to support my project and me. I am forever grateful. Every book that I received is now in my classroom library."
She began by posting a wish-list of books from Amazon. Down the road, she hopes to expand her outreach to find more programs or websites that could help her find more diverse books for her classroom.
Right now, because of Covid-19 guidelines, Ms. Horan is the only one who can touch the books. Because of this, she is using the books as "mentor texts" and reading aloud to her students.
Supporting the Curriculum
"I also use these diverse books in teaching some of my curriculum," she added. "For example, last week we were doing a lesson on 'taking notes' with informational or nonfiction texts. We had been reading a book about sharks, but instead of continuing with that book, I used the book 'Turning Pages: My Life Story' by Justice Sonia Sotomayor. Not only is this story about the first Latina Supreme Court Justice, it also aligned perfectly with our celebration and recognition of Hispanic Heritage Month.
"So not only can I use the books as read-aloud, I can also use them within the curriculum. In the future, I hope to turn my classroom into a lending library where students can keep the books at their seats for a designated amount of time and do independent reading. But for the time being with Covid-19, this is my safest approach.
"My students love the books," she said. "It has been really wonderful to see students making connections from their own lives to the books.
"For example, I have a handful of students who speak Spanish. When we read the book, 'Mango, Abuela, and Me' by Meg Medina, those students were really excited to hear some of the Spanish words they know. This engaged the entire class in a conversation about language and what other Spanish words they know, who in their family speaks Spanish, and how they learned Spanish.
Encouraging Conversations
"These multicultural texts have been a foundation to help my students and me have more conversations about diversity and connect the ideas from the books to our own lives."
Ms. Horan takes seriously her responsibility to serve as a positive role model for her students. "I have a class that is all students of color, and I know I am making an impact by just being their teacher since I am a teacher of color," she said.
"I create a safe, welcoming, and loving community for all students and foster a community of care within my room every day. And that, books aside, is what our students of color so often need with everything going on in our world today."
Hearty congratulations to Ivy for taking the initiative in her first year on the job to create a welcoming classroom environment for her diverse students.
Ms. Horan's Culturally Diverse and Representative Class Library
*Updated 10/22/20
| | |
| --- | --- |
| Book Title | Author |
| Freedom on the Menu: The Greensboro Sit-Ins | Carole Boston Weatherford |
| The Color of Us | Karen Katz |
| Little Fish | Sanne te Loo |
| Kali and the Rat Snake | Zai Whitaker |
| Yagua Days | Cruz Martel |
| Sosu's Call | Meshack Asare |
| New Clothes for New Year's Day | Hyun-Joo Bae |
| Where Are You From? | Yamile Saied Méndez |
| Jabari Jumps | Gaia Cornwall |
| Ada Twist, Scientist | Andrea Beaty |
| Uncle Jed's Barbershop | Margaree King Mitchell |
| Abuela | Arthur Dorros |
| Mae Among the Stars | Roda Ahmed |
| Too Many Tamales | Gary Soto |
| The Jolly Mon | Jimmy Buffet & Savannah Jane Buffet |
| Priscilla and the Hollyhocks | Anne Broyles |
| Anansi the Spider: A Tale from the Ashanti | Gerald McDermott |
| Hush! | Mingfong Ho |
| Whoever You Are | Mem Fox |
| Tiger in My Soup | Kashmira Sheth |
| Bringing the Rain to Kapiti PLain | Verma Aardema |
| Round is a Tortilla: A Book of Shapes | Roseanne Greenfield Thong |
| City Shapes | Diana Murray |
| Bein' with You This Way | W. Nikola-Lisa |
| Love | Matt de la Peña |
| City Green | DyAnne DiSalvo-Ryan |
| Something Happened in Our Town: A Child's Story About Racial Injustice | Marianne Celano, Marietta Collins, Ann Hazzard |
| Almost to Freedom | Vaunda Micheaux Nelson |
| Suki's Kimono | Chieri Uegaki |
| Freedom Soup | Tami Charles |
| Mama Miti | Donna Jo Napoli |
| Carmela Full of Wishes | Matt de la Peña |
| Cool Cuts | Mechal Renee Roe |
| Chocolate Me! | Taye Diggs |
| Happy Hair | Michal Renee Roe |
| Hair Love | Matthew A. Cherry |
| Don't Touch My Hair! | Sharee Miller |
| I Like Myself! | Karen Beaumont |
| Just LIke Me | Vanessa Brantley-Newton |
| My Hair is a Garden | Cozbi A. Cabrera |
| Amy Wu and the Perfect Bao | Kat Zhang |
| Dear Juno | Soyung Pak |
| Sumo Joe | Mia Wenjen |
| Fry Bread: A Native American Family Story | Kevin Noble Maillard |
| Windows | Julia Denos |
| Dreamers | Yuyi Morales |
| Grace for President | Kelly DiPucchio |
| The Word Collector | Peter H. Reynolds |
| A Day's Work | Eve Bunting |
| Sitti's Secrets | Naomi Shihab Nye |
| Ma'ii and the Cousin Horned Toad | Shonto Begay |
| Lailah's Lunchbox | Reem Faruqi |
| Keeprs | Jeri Hanel Watts & Felicia Marshall |
| Thirteen Moons on Turtle's Back | Joseph Bruchac & Jonathan London |
| Aunt Flossie's Hats (and Crab Cakes Later) | Elizabeth Fitzgerald Howard |
| Fatuma's New Cloth | Leslie Bulion |
| Golden Domes and Silver Lanterns: A Muslim Book of Colors | Hena Khan |
| Islandborn | Junot Díaz |
| The Name Jar | Yangsook Choi |
| Mango, Abuela, and Me | Meg Medina |
| You Matter | Christian Robinson |
| I Promise | Lebron James |
| I Am Enough | Grace Byers |
| Under My Hijab | Hena Khan |
| Thunder Boy Jr. | Sherman Alexie |
| Raven: A Trickster Tale from the Pacific Northwest | Gerald McDermott |
| Why Mosquitoes Buzz in People's Ears: A West African Tale | Verna Aardema |
| Ohana Means Family | Ilima Loomis |
| This Is the Rope | Jacqueline Woodson |
| Be the Difference: 40+ Ideas for Kids to Create Positive Change Using Empathy, Kindness, Equality, and Environmental Awareness | Jayneen Sanders |
| V is for Voting | Kate Farrell |
| Speak Up | Miranda Paul |
| What If We Were All the Same! | C.M. Harris |
| Ella Fitzgerald: The Tale of a Vocal Virtuosa | Andrew Davis Pinkney |
| A Computer Called Katherine | Suzanne Slade |
| Counting on Katherine | Helaine Becker |
| Little Leaders: Bold Women in Black History | Vashti Harrison |
| Ruby Bridges Goes to School: My True Story | Ruby Bridges |
| Turning Pages | Sonia Sotomayor |
| The Power of Her Pen: The Story of Groundbreaking Journalist Ethel L. Payme | Lesa Cline-Ransome |
| Fight for the Right to Learn: Malala Yousafzai's Story | Rebecca Langston-George |
| Malala's Magic Pencil | Malala Yousafzai |
| Martin's Big Words | Doreen Rappaport |
| Child of the Civil Rights Movement | Paula Young Shelton & Raul Colón |
| Equality's Call: The Story of Voting Rights in America | Deborah Diesen |