Readers of this website know that Miguel Cardona, recipient of an Alma Exley memorial scholarship in 1998, has emerged as a respected educational leader.
His latest step into the spotlight was his appointment last year to a task force on the academic achievement gap in Connecticut's schools. Mr. Cardona co-chaired the task force along with State Sen. Toni Harp (D-New Haven). The task force, created by the General Assembly, submitted its report in January. The legislature used several of the committee's ideas in writing a bill now being considered by the General Assembly's education committee.
The wide-ranging bill would phase in all-day kindergarten, more preschool programs for Connecticut's poor children and more attention to students whose first language is not English. The bill also would let districts have longer school days and academic years, and would simplify the process by which out-of-state teachers can get Connecticut certification.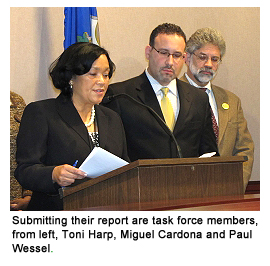 "When you think of all of the generations of people we've lost because we have this achievement gap, it's a moral problem in our state," said State Sen. Harp.
The bill is awaiting a vote by the education committee on whether to send it to the full General Assembly.
Mr. Cardona, principal of Hanover Elementary School in Meriden, said, "There is that level of predictability when you say children of this ethnic background will more likely achieve as a group, and that's sad. We felt passion and a moral responsibility to the work that we did, but it does also make financial sense to address the disparities. If we don't address them, the amount of money needed later to address the results of that will be greater."
Connecticut's poorest students are about three grade levels behind their peers in reading and math, according to the National Assessment of Education Progress, an annual review mandated by Congress and overseen by the U.S. Department of Education. The National Assessment also says the gap is the largest among all states, and it says 60 percent of Connecticut's low-income students graduated from high school in 2009, compared with 86 percent of more affluent students.
The low-income students also are largely black and Hispanic and even among those students, there's a deeper gap between the male and female students. Those whose primary language at home is not English also often face academic struggles, particularly in reading, when they enter the public schools.
(Former Gov. M. Jodi Rell appointed a separate group last year that reached several of the same conclusions as the task force appointed by the General Assembly.)
– Woody Exley
Posted March 7, 2011