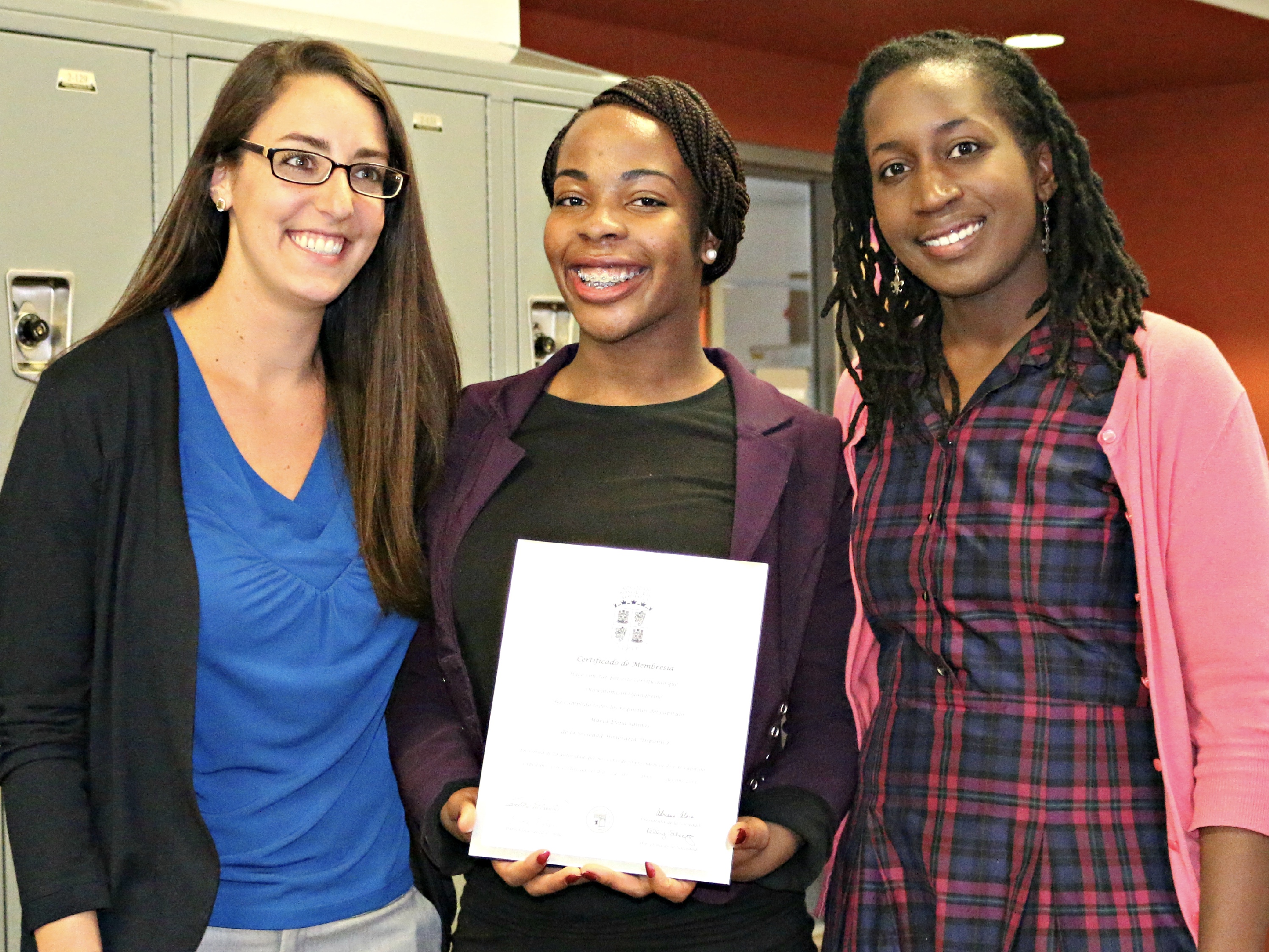 Master Teacher Angelica Gibbs, right, with her principal, Jenna Kalin, left, and senior
student/advisee Oluwatomisin Ogungbenle.
Over the past 20 years, Alma Exley Scholars have pursued a wide variety of paths within the field of education. Many have matured as outstanding classroom teachers. Others have emerged as principals and as leaders at the district and state levels.
It's always good to learn about their accomplishments, and it is especially pleasing when a recipient is honored for exemplary work with students.
I was delighted to learn recently that Angelica Gibbs, whom we honored in 2005, has been honored as a Master Teacher. Check out this video in which her students and colleagues speak glowingly of her qualities as an outstanding teacher.
Angie, who grew up in New Haven, graduated from Connecticut College. Her first job was as a Spanish teacher at the Match Charter Public School in Boston. Within two years she earned a master's degree at Lesley University.
After nine years in Boston, she made a new start by heading west. She signed on as a Spanish teacher at Green Valley Ranch High School, part of the Denver Schools of Science and Technology (DSST) system in Colorado.
After just one year in Denver, she was honored with the designation as a Master Teacher. A master teacher typically has more than six years of experience, has demonstrated strong student achievement, and is a positive contributor to school culture.
Angie teaches Spanish 3 as well as Advanced Placement Spanish and Spanish for Native Speakers to senior students. All of her AP Spanish students passed the AP exam last year — a remarkable achievement — and all of her Spanish 3 students showed tremendous growth over time on their trimester final exams.
She received the honor because of the exam results, her 10 years of experience, and positively strong results in surveys of peers, students, parents and administrators about her teaching, collaboration, communication and leadership.
"I feel honored to earn this distinction after just one year in Denver," Angie told me. "It's deeply satisfying to have an impact on the lives of so many young people as a teacher. I hope this kind of recognition inspires others to choose teaching as a career."
As for me, I'm so pleased for Angie, and I'm delighted to have this opportunity to put the spotlight on another of our outstanding Alma Exley Scholars who are making a difference every day in school systems all across the country.
– Woody Exley